*** Local Caption *** Oceana diver next to a trawl net hooked in the rocks and coralligenous reef. Almería, Andalucia, Spain. 2022 Ranger Expedition to the Alboran Sea. June 2022. Buceador de Oceana junto a una red de arrastre enganchada en las rocas y en el arrecife de coralígeno. Almería, Andalucía, España. Expedición del Ranger al Mar de Alborán. Junio 2022.
A diferencia de ayer, comenzamos a primera hora con vientos que fueron amainando a lo largo de la tarde, dándonos de nuevo un mar casi plano. Primero navegamos hasta la parte superior del banco de Chella para comprobar algunas posibles marcas de arrastre. En nuestro camino, vimos varios barcos de pesca, entre ellos dos arrastreros y un barco de pesca con nasas. La buena noticia es que descubrimos que uno de los arrastreros que más se dedicaba a la pesca de arrastre en esta zona ha cambiado a la pesca con nasas.
La ladera del monte submarino que investigamos está bastante destruida por la pesca de arrastre. Más tarde, nos trasladamos a la cima y filmamos una zona con rodolitos, manos de muerto y gorgonias.
Para la última inmersión con ROV de la mañana, nos desplazamos fuera de la montaña submarina. A unos 160 metros, inspeccionamos otra zona fuertemente arrastrada donde encontramos algunas marcas y, en general, una biodiversidad muy pobre. La fauna principal aquí está compuesta por gusanos albañiles, ostras de profundidad, cangrejos ermitaños y caracoles de mar (Xenophora crispa).
Por la tarde, navegamos de vuelta a Adra, donde encontramos el arrecife ayer. Queríamos saber si el arrecife se extiende a zonas menos profundas o si se encuentra principalmente a la misma profundidad. Tras varias inmersiones con el ROV, volvimos a encontrar el arrecife, pero a la misma profundidad: 40 metros. Y, para nuestra sorpresa, unos minutos más tarde vimos una enorme red de arrastre enganchada a las rocas y al arrecife de coralígeno.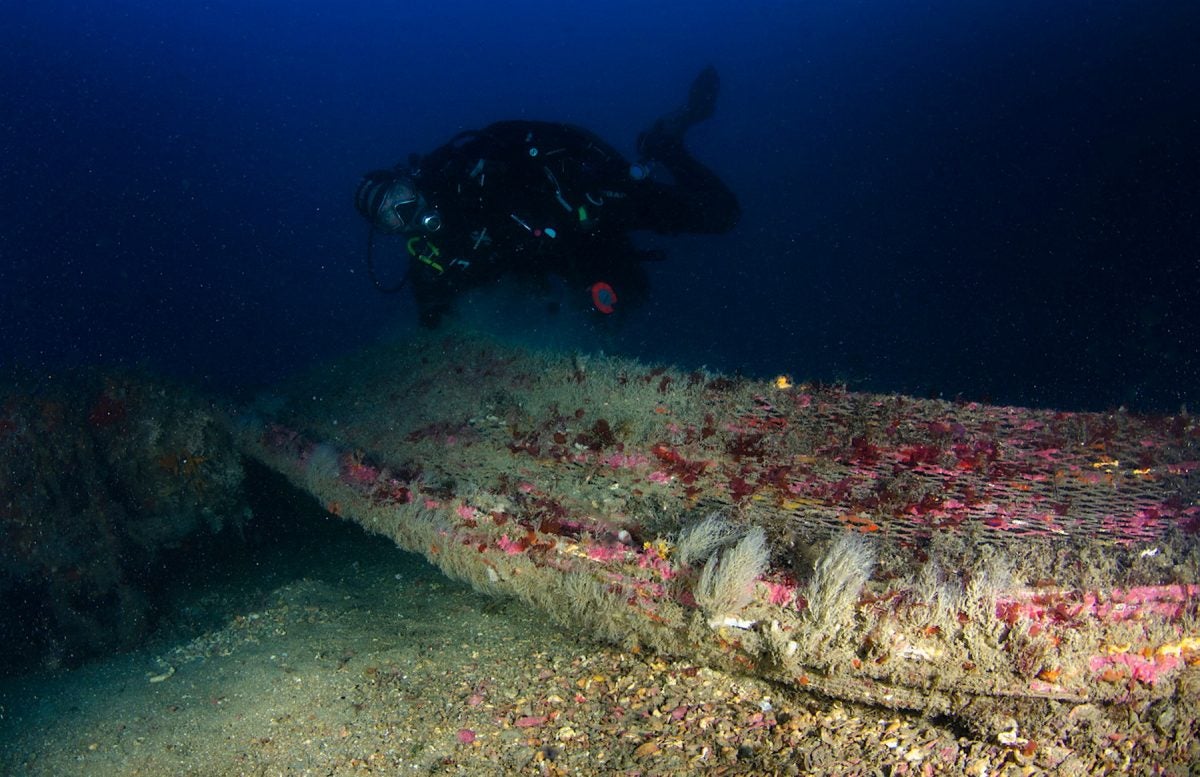 Huge trawl net. Photo credit: © OCEANA / Enrique Talledo
Para la última expedición de la tarde, decidimos utilizar simultáneamente el ROV mientras realizábamos inmersiones de buceo para obtener la mayor cobertura posible. Pasamos algún tiempo filmando el impacto de muchas artes de pesca perdidas (redes de arrastre, líneas, redes de enmalle, nasas, etc.) en un rincón de la zona mientras documentábamos las numerosas esponjas y gorgonias que se encuentran aquí.
Una vez completadas las inmersiones con los submarinistas y el ROV, nos dirigimos de nuevo a puerto, donde nuestra tripulación desembarcará para volver a casa, bien por la tarde o bien mañana al amanecer, cuando el Ranger parta hacia su puerto base en Sagunto.