*** Local Caption *** Oceana diver next to a trawl net hooked in the rocks and coralligenous reef. Almería, Andalucia, Spain. 2022 Ranger Expedition to the Alboran Sea. June 2022. Buceador de Oceana junto a una red de arrastre enganchada en las rocas y en el arrecife de coralígeno. Almería, Andalucía, España. Expedición del Ranger al Mar de Alborán. Junio 2022.
Unlike yesterday, we started off with early hour winds that died off throughout the early afternoon, giving us again an almost flat sea. We first sailed to the top of the Chella bank to check some possible trawl marks. On our way, we spotted several fishing boats, including two trawlers and one pot fishing boat. The good news is that we discovered that one of the trawlers that was more involved on trawl fishing in this area has changed to pot fishing.
The hillside of the seamount we were researching is quite destroyed by trawling. Later, we moved to the top, and filmed an area with rhodoliths, dead man's fingers, and gorgonians.
For the last ROV dive in the morning, we moved out of the seamount. At some 160 meters, we surveyed another heavily trawled area where we found some trawl marks and, overall, very poor biodiversity. The main fauna here being, sand mason worms, deep-sea oysters, hermit crabs, and sea snails (Xenophora crispa).
In the afternoon, we sailed back to Adra where we found the reef yesterday. We wanted to know if the reef spreads out to shallower areas, or if it is mainly at the same depth. After several dives with the ROV, we found the reef again, but at the same depth—40 meters. And, much to our surprise a few minutes later, we spotted a huge trawl net hooked onto the rocks and coralligenous reef.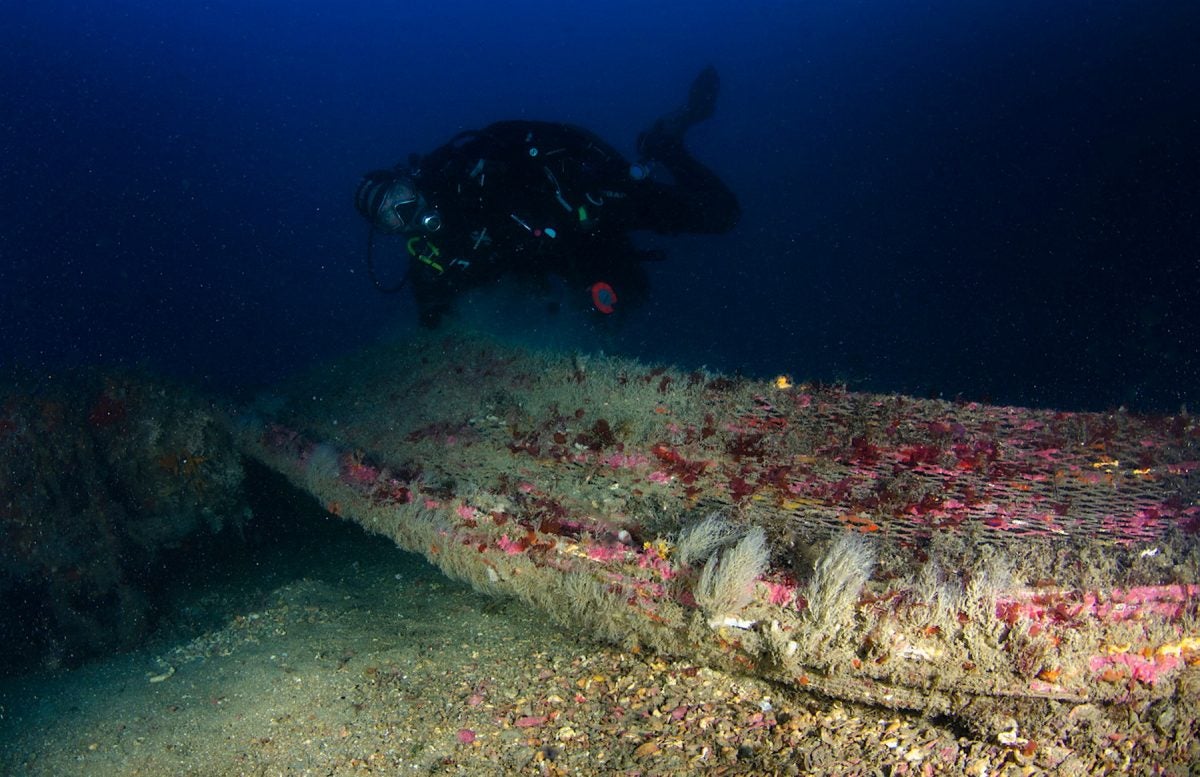 Huge trawl net. Photo credit: © OCEANA / Enrique Talledo
For the last afternoon of expedition, we decided simultaneously use the ROV while conducting scuba dives to get as much coverage as possible. We spent some time filming the impact of many lost fishing gears (trawl nets, lines, gillnets, pots, etc.) in one corner of the whilst documenting the many sponges and gorgonians found here.
With the scuba and ROV dives completed, we headed back to port, where have off our crew is set to return home either in the evening or tomorrow at sunrise, when the Ranger departs for her home port in Sagunto.