*** Local Caption *** Crew members in the dinghy and diver in the water. Almerimar, Almería, Andalucia, Spain. 2022 Ranger Expedition to the Alboran Sea. June 2022. Miembros de la tripulación en la neumática y buceador en el agua. Almerimar, Almería, Andalucía, España. Expedición del Ranger al Mar de Alborán. Junio 2022.
Navegamos hacia el Banco de Chella para buscar señales de arrastreros en la cima de la montaña submarina. A pesar del mal tiempo, pudimos realizar una inmersión con ROV hasta los 100 m. Por lo que vimos, parece que algunos arrastreros están usando para pescar un estrecho camino de arena entre dos arrecifes salpicados de plumas de mar (Virgularia mirabilis). Los arrecifes circundantes están cubiertos de gorgonias (Viminella flagellum Callogorgia verticillata, Eunicella verrucosa) y esponjas (Haliclona poecillastroides, Spongosorites sp.).
Nuestra segunda inmersión con el ROV fue en aguas más profundas, justo al sureste del banco. Una vez que se despejó el polvo, vimos que habíamos aterrizado justo encima de una marca de arrastre. La seguimos durante un rato, pero por desgracia tuvimos algunos problemas técnicos con el ROV y tuvimos que abortar.
Todavía teníamos tiempo para volver, y con los problemas técnicos del ROV resueltos, realizamos otra inmersión con el ROV cerca de la costa, pero todavía bien cerca de la MPA. Aunque no pudimos distinguir marcas de redes de arrastre en el fondo arenoso, sí observamos que el lecho marino estaba cubierto de ostras gigantes (Neopycnodonte cochlear), que ahora vemos con bastante frecuencia en los lechos marinos arenosos donde los arrastreros han pescado o siguen pescando.
Nuestros submarinistas pudieron avistar varias especies interesantes, como tiburones gato (Scyliorhinus canicular), alones voladores (Dactylopterus volitans) y varios nudibranquios en una pradera de fanerógamas deteriorada en la que sólo quedan parches de posidonia. Desgraciadamente, la luz del día se estaba desvaneciendo y decidimos que era hora de volver a puerto para descansar. Esperemos que mañana el tiempo mejore.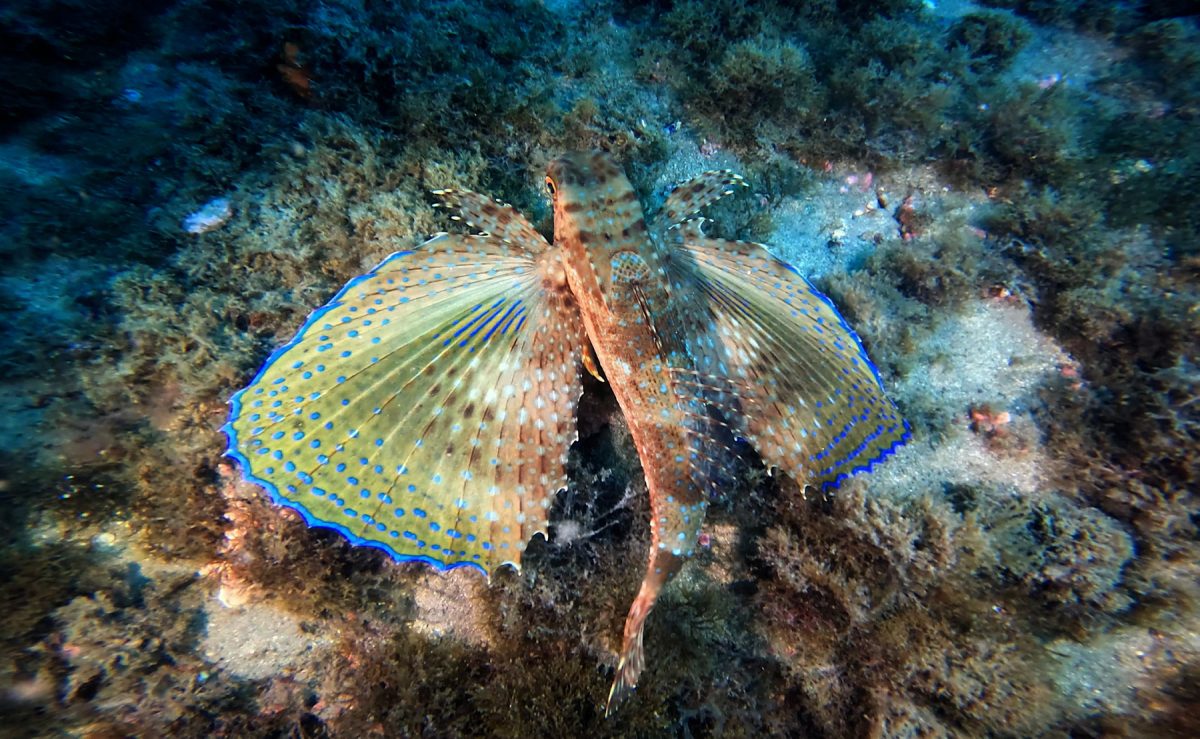 Flying gurnard (Dactylopterus volitans). Photo credit: OCEANA / Enrique Talledo