*** Local Caption *** Crew members in the dinghy and diver in the water. Almerimar, Almería, Andalucia, Spain. 2022 Ranger Expedition to the Alboran Sea. June 2022. Miembros de la tripulación en la neumática y buceador en el agua. Almerimar, Almería, Andalucía, España. Expedición del Ranger al Mar de Alborán. Junio 2022.
We sailed towards Chella Bank to look for signs of trawlers at the top of the seamount. Despite the poor weather, we were able to conduct and ROV dive down to 100 m. From what we see, it seems that some trawlers are using a narrow, sandy path between two reefs dotted with sea pens (Virgularia mirabilis) to trawl. The surrounding reefs are covered with gorgonians (Viminella flagellum Callogorgia verticillata, Eunicella verrucosa) and sponges (Haliclona poecillastroides, Spongosorites sp.).
Our second ROV dive was in deeper waters, just southeast of the bank. Low and behold, once the dust cleared, we saw that we landed right on top of a trawl mark. We followed it for a bit, but unfortunately, we had some technical problems with the ROV, and had to abort.
We still had time to on our trip back to the coast, and with the ROV's technical issues solved, we conducted yet another ROV dive close to the coast, but still well with the MPA. While we couldn't discern trawl marks on the sandy bottom, yet we did note that the seabed was covered by deep oysters (Neopycnodonte cochlear)—which we are now seeing quite often in sandy seabeds where trawlers have fished, or continue to fish.
Our scuba divers were able to spot several interesting species, including like catsharks (Scyliorhinus canicula), flying gurnard (Dactylopterus volitans), and several nudibranchs in a deteriorated seagrass meadow where only patches of posidonia remain. Unfortunately, the daylight was fading, and we decided it was time to head back to port to rest. Hopefully, tomorrow the weather will fair better.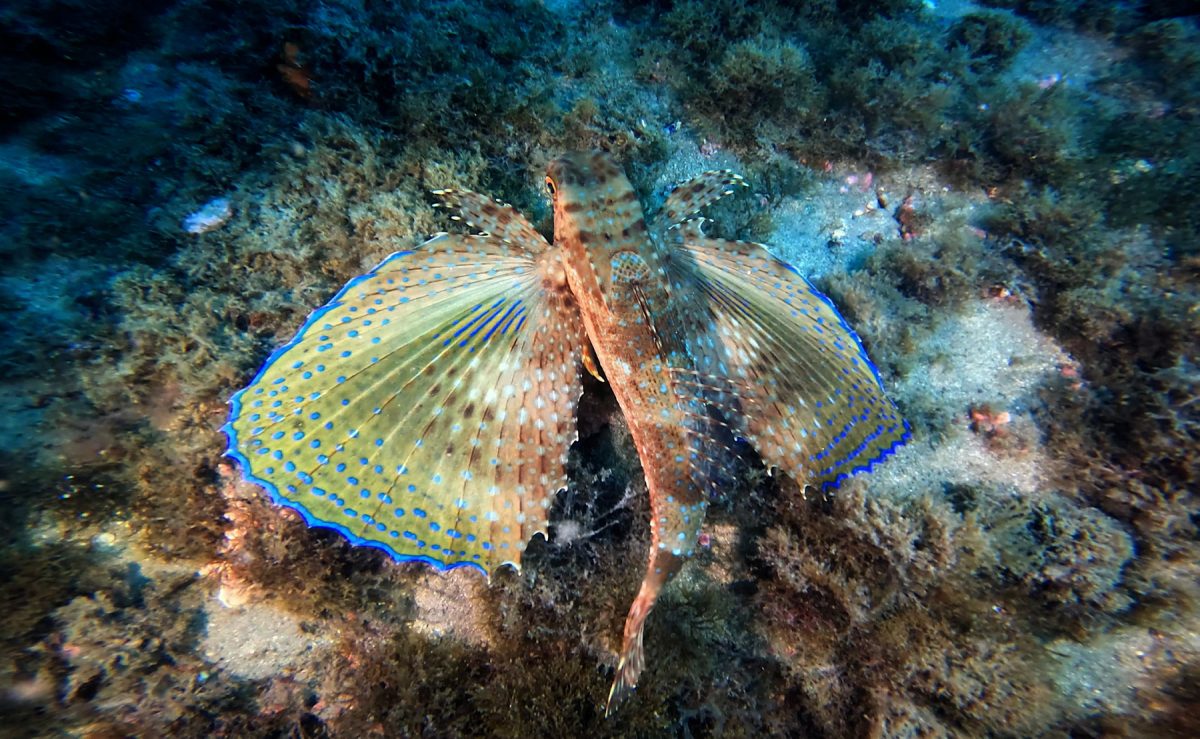 Flying gurnard (Dactylopterus volitans). Photo credit: OCEANA / Enrique Talledo