junio 12, 2022
¡Fantástico descubrimiento: un arrecife coralígeno!
*** Local Caption *** Oceana diver in backlight during safety stop. Almerimar, Almería, Andalucia, Spain. 2022 Ranger Expedition to the Alboran Sea. June 2022. Buceador de Oceana a contraluz durante parada de seguridad. Almerimar, Almería, Andalucía, España. Expedición del Ranger al Mar de Alborán. Junio 2022.
Aunque las previsiones meteorológicas anunciaban otro día de viento, nos despertamos con una suave brisa y un mar casi plano.
Nuestra primera inmersión fue en una zona con fondos de maërl y coralígeno, frente a la AMP costera del Seco de los Olivos. Más tarde nos trasladamos a un poco más de profundidad para buscar marcas de arrastre. Realizamos varias inmersiones con el ROV en la arena detrítica. La mayor parte de la zona está cubierta por rodolitos dañados y pocas especies. Esta zona ha sufrido el impacto de muchos arrastreros y las marcas son difíciles de diferenciar.
Por la tarde, el viento aumentó. Navegamos hacia una zona protegida en el oeste y avistamos tres delfines mulares en nuestro camino. Llegamos cerca de Adra, donde realizamos varias inmersiones con buceadores y con el ROV en el fondo arenoso y vimos la mayor cantidad de plásticos hasta el momento. Tras divisar una vieja nasa perdida llena de cangrejos ermitaños y algunos peces, la subimos con el ROV y, una vez a bordo, liberamos a los animales atrapados.
Y para la última inmersión, utilizamos el ROV en una zona que aparece como "fondo rocoso" en las cartas. Aquí tuvimos un hallazgo fantástico: un arrecife de coralígeno totalmente cubierto por gorgonias y esponjas. Las gorgonias más comunes que vemos son Leptogorgia sarmentosa y Paramuricea clavata. La esponja más común es Axinella polypoides. Esta gran esponja casi ha desaparecido en muchos lugares del mar Mediterráneo. Está protegida por el Convenio de Barcelona y muchas leyes nacionales. También encontramos otras gorgonias y esponjas de especies protegidas.
Nunca he visto tantas esponjas de esta especie. Están por todas partes y muchas de ellas son muy altas. El hábitat que crean es también una buena zona para los peces. Avistamos también un gran banco de dentones comunes (Dentex dentex) moviéndose en busca de presas. Con la puesta de sol y este fantástico hallazgo, decidimos volver a puerto para cerrar la jornada y descansar.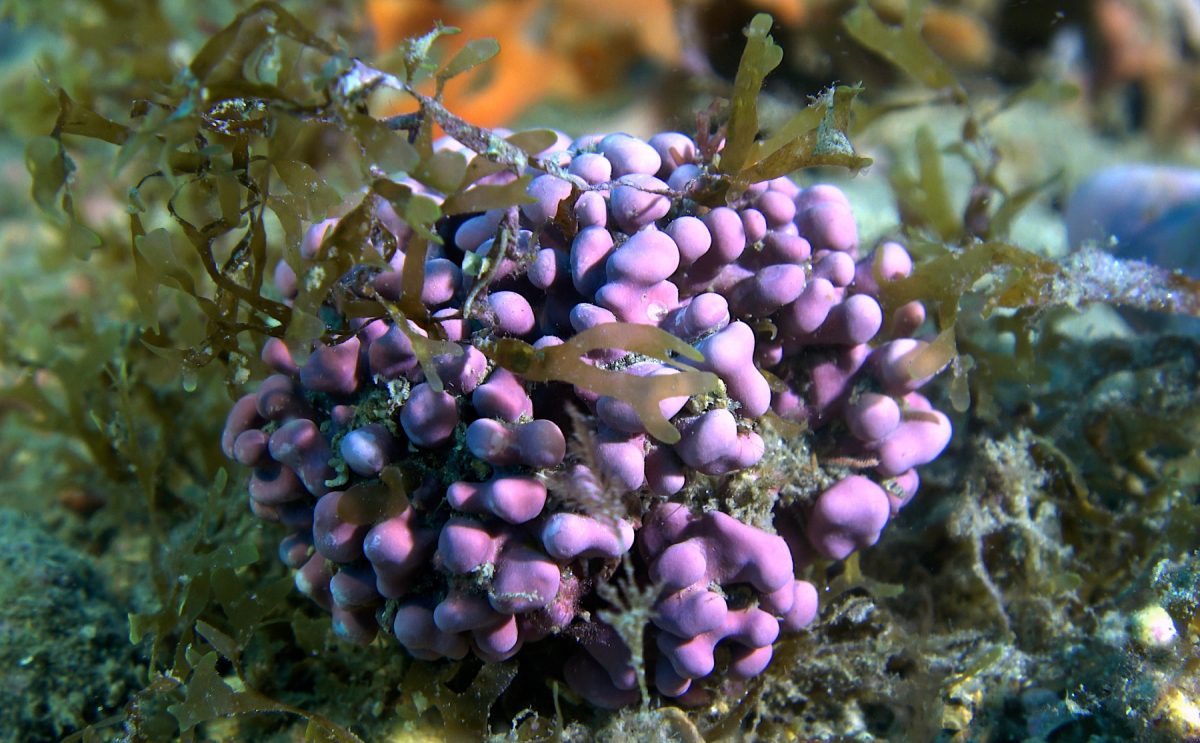 Maërl rodolith. Photo credit: © OCEANA / Enrique Talledo