*** Local Caption *** Bottom trawling fishing. Almería, Andalucia, Spain. 2022 Ranger Expedition to the Alboran Sea. June 2022. Arrastrero de fondo faenando. Almería, Andalucía, España. Expedición del Ranger al Mar de Alborán. Junio 2022.
Los vientos se han levantado fuertes hoy, pero el Ranger ha resistido y hemos podido seguir trabajando, aunque con pequeños cambios en los lugares de inmersión. En total, hemos realizado varias inmersiones con ROV y una con buceadores.
Hicimos un par de cortas "inmersiones de inspección" en varios puntos no muy lejos de la costa de Almerimar. Esta zona está fuertemente arrastrada y el fondo marino está devastado, tanto que no podemos diferenciar las marcas de arrastre. La biodiversidad es muy baja, con sólo algunos gusanos tubícolas y algunas anémonas que viven en un fondo marino casi desierto.
Más tarde, nos dirigimos a la bahía al norte de Balerma y comenzamos nuestra investigación aquí con una inmersión de buceo seguida de una inmersión con ROV. Encontramos un fondo marino con escasas manchas de Cymodocea nodosa. El fondo arenoso de esta bahía alberga muchas especies diferentes de peces, como salmonetes (Mullus spp), brecas (Pagellus erythrinus), chuclas (Spicara spp.), cucos (Chelidonichthys spp.) y galanes (Xyrichtys novacula), por nombrar algunas.
Un poco más al norte localizamos lechos de rodolitos, y sorprendentemente entre estos lechos y el fondo arenoso, gorgonias de la especie Eunicella filiformis. Esta es la única gorgonia mediterránea que no está adherida al sustrato. No conozco otra gorgonia como ésta en el mundo.
Nuestras últimas inmersiones del día se centraron en una zona que sabemos que ha sido fuertemente arrastrada. Una vez más, los efectos de la pesca de arrastre de fondo en la vida marina son evidentes: la biodiversidad es muy baja. También observamos aquí grandes acumulaciones de algas muertas y, de nuevo para nuestra sorpresa, vimos gorgonias de fondos blandos (Spinimuricea atlantica). Que yo recuerde, nunca habíamos encontrado esta especie tan al este. Hay dos especies de Spinimuricea en el Mediterráneo: Spinimuricea atlantica, como su nombre indica, es una especie atlántica que llega hasta la parte más occidental del mar de Alborán. La segunda, Spinimuricea klavereni, es una especie endémica del mar Mediterráneo y se puede encontrar hasta el estrecho del Bósforo.
También tuvimos dos invitados que pasaron todo el día a bordo con nosotros: Una periodista y un operador de cámara de France24. Ayer nos contaron que estaban a bordo de un arrastrero y se quedaron sorprendidos por los pocos peces que capturaron tras muchas horas de arrastre…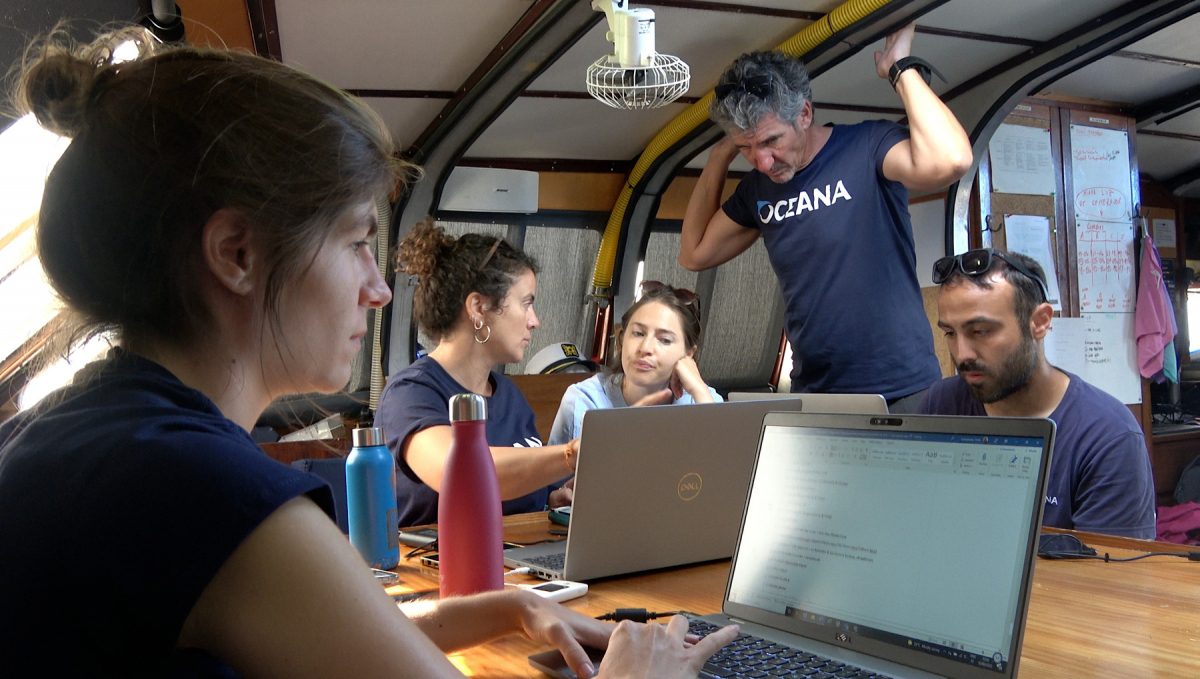 Journalist from France24 and crew members working on board the Ranger. Photo credit: OCEANA / Enrique Talledo