Bottom trawling fishing. Almería, Andalucia, Spain. 2022 Ranger Expedition to the Alboran Sea. June 2022. Arrastrero de fondo faenando. Almería, Andalucía, España. Expedición del Ranger al Mar de Alborán. Junio 2022.
The winds picked up today, but the Ranger resisted and we still were able to work, albeit with minor changes on where we'd dive. In all, we conducted several ROV dives and one scuba dive.
We took a couple short "inspection dives" at various points not far off the coast of Almerimar. This area is heavily trawled, and the seabed is devastated, so much so that we cannot differentiate the trawl marks. The biodiversity is very low with only some tube worms and soft tube anemones living on the nearly deserted seafloor.
Later, we headed to the bay north of Balerma and started our research here with a scuba dive followed by an ROV dive. We found a seabed with sparse patches of seagrass (Cymodocea nodosa). This bay's sandy bottom hosts many different species of fish, like red mullets (Mullus spp), common pandora (Pagellus erythrinus), picarels (Spicara spp.) sea robins (Chelidonichthys spp.), and pearly razorfish (Xyrichtys novacula), to name a few.
A bit more to the north we located rhodolith beds, and surprisingly between these beds and the sandy bottom, free-living gorgonian (Eunicella filiformis). This is the only Mediterranean gorgonian that it is not attached to the substrata. I do not know of another gorgonian like this in the world.
Our last dives for the day were focused on an area known to be heavily trawled. Once again, the effects of bottom trawling on marine life here are evident—the biodiversity is very low. We also observed large accumulations of dead seaweed here, and again much to our surprise, we spotted soft-bottom gorgonians (Spinimuricea atlantica). As far as I recall, we have never found this species so far to the east. There are two species of Spinimuricea in the Mediterranean Sea: Spinimuricea atlantica, as the name implies, is an Atlantic species that reaches the westernmost part of the Alboran Sea. The second, Spinimuricea klavereni, is an endemic species of the Mediterranean Sea and can be found as far up to the Bosphorus Strait.
We also had two guests spend the whole day aboard with us: A journalist and a camera operator from France24. Yesterday, they told us they were onboard a trawler, and they were shocked by the few fish they caught after many hours trawling…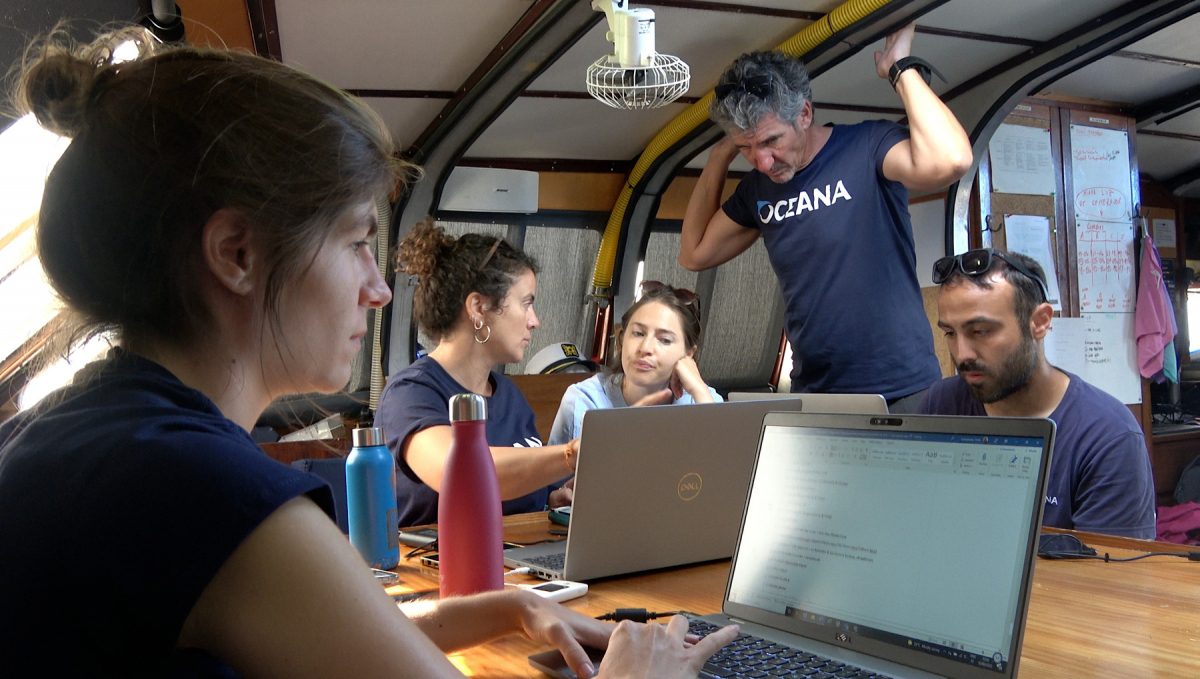 Journalist from France 24 and crew members working on board the Ranger. Photo credit: OCEANA / Enrique Talledo