June 14, 2023
Political pressure pays off as Northeast Atlantic fish populations show signs of recovery
Fish populations in the EU, particularly those in the Northeast Atlantic, are showing clear signs of recovery, as the latest European Commission annual communication on the state of EU fisheries concludes. It reveals a positive upward trend in the biomass of Northeast Atlantic fish populations over the years since 2007. During that time, Oceana, together with our blue NGO allies, has persistently campaigned to get the EU to establish catch limits in line with science and to put an end to overfishing. Today, we are pleased that the results speak for themselves and show how campaigning efforts pay off.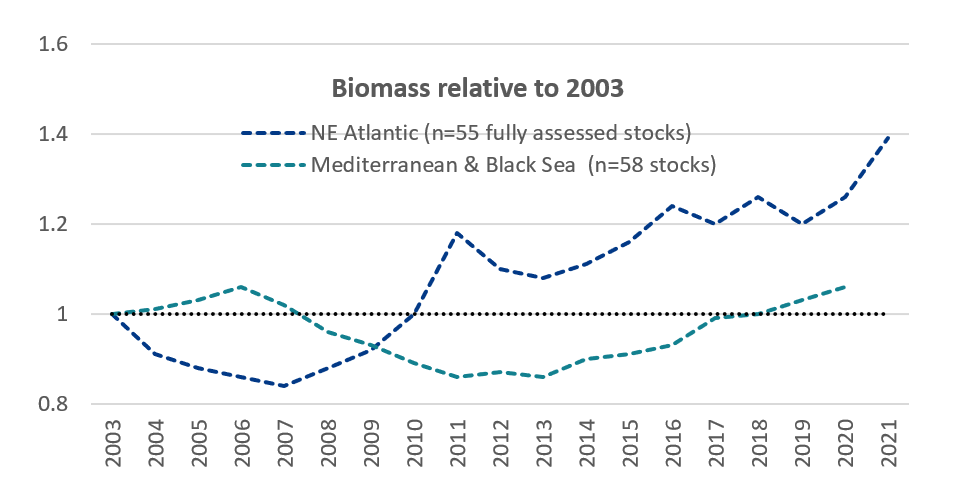 (source: STECF report "Monitoring of the performance of the Common Fisheries Policy", 2023)
This positive outcome confirms that conservation efforts and EU fisheries policy can deliver when there is a political will to implement them along with cooperation on the part of fisheries stakeholders. However, there is not always the political will. In the Northeast Atlantic, for instance, dozens of fish population are still severely overexploited, with biomass levels below safe biological limits. Overfishing also continues to be rampant in the Mediterranean and Black Sea, where over 70% of assessed fish stocks remain fished above sustainable levels. Additionally, the Baltic Sea faces the combined challenge of past overfishing coupled with an ongoing environmental crisis, thus stalling any effort to recover fish stocks.
We may be on the right recovery path, but further efforts are still needed to protect and restore marine resources and ecosystems. This requires the EU keeping ambition high and striving to implement the best management standards. By doing so, we can ensure a healthier abundance of fish at sea and a better future for fishing communities.