Oceana urges bold action to ban bottom-trawling in Europe's 'protected' areas
Press Release Date: May 25, 2021
Location: Brussels
Oceana is calling on Members of the European Parliament (MEPs) to support a ban on bottom trawling, the most harmful and unselective fishing gear, in all EU marine protected areas (MPAs). The European Parliament's environment committee (ENVI) will vote on its opinion on the EU 2030 Biodiversity Strategy on 27-28 May.
Nicolas Fournier, Campaign Director, Marine Protection at Oceana in Europe said: "Banning bottom-trawling inside protected areas is a no-brainer, especially as new data shows that in addition to being highly destructive, bottom-trawling also releases enormous amounts of carbon stored in the seabed. We urgently need actual protection for our 'protected' areas, and a transition to low-impact, low-carbon fisheries in Europe."
Bottom-trawling is inherently incompatible with the concept of protected areas and the European Parliament must call on the European Commission and EU Member States to prohibit it in order to deliver their ambitious ocean protection targets.
The EU 2030 Biodiversity Strategy is critical for the EU to tackle the continuous biodiversity loss in European seas1, to deliver the ambition of the European Green Deal and to become a global champion regarding ocean protection. The Parliament has a unique opportunity to voice its opposition towards marine paper-parks to the European Commission, who is currently preparing its EU Action Plan on the ocean (due after the summer) and the upcoming Restoration Law (due at the end of the year).
Together with other environmental NGOs, Oceana launched on 20 May a petition calling on Commissioners Sinkevi?ius and Timmermans to propose an ambitious Action Plan that, as a first step, bans destructive fishing in all EU marine protected areas. The petition has been signed by over 100,000 people within days of its launch.
Background:
The EU seabed is the most bottom-trawled in the world – trawled more than five times the global average2. An area one third of Europe's continent is impacted by trawling in European waters every year3. Bottom-towed gear is widely used in the EU, including inside MPAs, with some studies4 indicating a higher intensity of trawling inside than outside designated areas. Indeed, a recent Oceana study showed that destructive fishing, including bottom trawling, affects 86% of the area designated under Natura 2000 to protect marine habitats.
To add to this, a separate study in Nature5 showed that each year bottom trawling releases enormous amounts of carbon (equivalent to that generated by the aviation industry) from the seabed back into the water column. Reducing the trawling footprint would safeguard the seabed's carbon stores while increasing the ocean's resilience to climate change.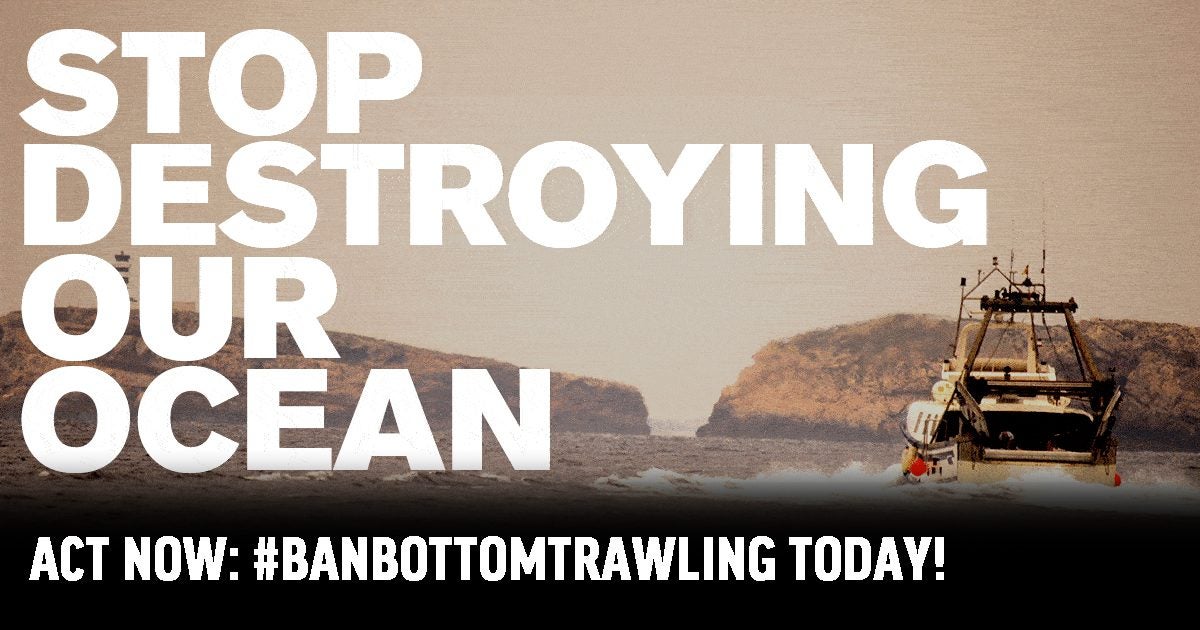 Learn more:
Sign the petition: wemove.eu/protectourocean
Watch our video on bottom-trawling in European MPAs
NGO feedback on the Roadmap of the EU Action Plan "NGO Shadow Action Plan: Realising the ambition of the EU Biodiversity Strategy in the ocean"
*ENDS*
Notes to editors:
#BanBottomTrawling