July 21, 2014
Tackling Illegal Fishing in Italy: The Making Of
Earlier this month, Oceana and Corriere della Sera embarked on a behind-the-scenes mission to uncover illegal fishing in the Port of Bagnara in southwest Italy. During an overnight mission, the team documented illegally caught swordfish from drift gillnets entering the Port. This isn't the first undercover mission from Oceana—earlier this summer we uncovered drift gillnets in Morocco. Read below to learn more.
Reaching Reggio Calabria has been a long trip—and not just in terms of the drive. We didn't sleep the night before because our mind stirred with thoughts about what lied ahead of us, wondering, "What will it be like?" and "How will it go?". After traveling for nine hours, we land in Reggio Calabria, flying over the Strait of Messina, in the afternoon on July 7.
The cameraman, Antonio, who saw the plane landing (as planes land in a very urbanized area on the sea and pilots need specific patent to land here, Antonio explained) came to pick us up. As soon as we met him we realized we could trust him. This gave us a bit of comfort.
The three of us then went to his studio to choose the equipment for the night and define a preliminary plan—bearing in mind that our plan had to be flexible.
We agree to meet at 7:30 p.m. at Scilla and then drive to Bagnara with the rented car. It is already 5:30 p.m. when we leave Reggio to reach the bed-and-breakfast in Scilla. It's 34ºC degrees, and very humid. We drive, in silence, looking at the landscape and both of us knowing each other's thoughts: the many stories about 'ndrangheta hiding in those arid mountains we are just passing by.
We finally arrive in Scilla, and we decide to take a shower and a quick nap. It's 6:15 p.m. already but the staff at the B&B are very nice and welcome us with two glasses of fresh white wine. We can't say no—we are tourists on vacation after all! The owner lives in the house, something we don't like because we have to talk in code, like my partner keeps calling me Sara (my 007 nick name!).
It's now 7:15 p.m. , and while we're in the room looking at the amazing view of Scilla's small port, we realize that a boat with driftnets on board is leaving the port and heading to Bagnara. We have to go right away, but Antonio texts us that he is running late to meet us. Almost 40 minutes later than scheduled, the three of us meet at the Bagnara ancient tower and watch the sunset. It's 8:40 p.m. now, but the sunset is not that great actually. From our view, you can actually see all boats leaving the Port of Bagnara, but we do not see any boat with drift nets leaving.
As originally planned, we go for pizza in the only isolated restaurant at the port. It's separated from the rest of the Bagnara village, and it's the only place where we can stay for a while to monitor boat movements without being suspicious. We stay there for almost an hour a half, and while nothing happens, the pizza is at least very good.
A boat arrives at 10:30 p.m., but we know it can't be what we are looking for. We decide to go anyway to have a look at this long liner's landings.
We take a few beers with us (as planned) and go for a walk. People on the dock keep their eyes on us all the time, but we keep walking and reach the very end of the port's mouth where boats get in and out. We decide to sit there and drink beers.
We are sitting on a wall six feet tall that protects the harbor, and we're talking like old friends. Two men are walking along the harbor and come near us, but then they ignore us and leave.
Now it's 11:20 p.m. and no one is in the harbor now. We think about arranging watches, but at the same we all want to be awake and monitor what's going on.
Sometimes things happen automatically without talking about it, and that's what happened to us. The three of us, without planning, all lay down on the high wall protecting the entrance of the harbor. There is no light, we all are dressed with black jackets, and we realize they can't see us while entering and leaving the harbor. Let's see what happens.
It's 12:30 a.m. now. We start feeling tired, but at 1:00 a.m. a car from the fire department enters the port and parks just in front of us, and at 1:20 a.m. a white fridge van parks in the same position and two junk dealers open its doors. We hear an engine approaching the harbor from the distance. Its lights are off, and it's driving in the complete dark. At 1:30 a.m. the boat unloads two swordfishes and the junk dealers arrange them in the van, very quickly. The boat, PASQUALE, leaves immediately without mooring at all. She sails again towards the open sea.
Antonio films everything. My heart is running… I can't believe what happened! We have something! Our hearts are pumping but we do not move a finger for a few minutes. How many fish were there? Two, three? Just one?
After a while, when everything is calm, we start whispering: Antonio saw one fish, Lucia* saw two and I thought they were three. We watch the film, from which it seems that only one swordfish was landed. 'Better to watch it again later in the studio,' I think.
We monitor all of the boats that night. Antonio shoots every boat entering and leaving the harbor. A couple of boats with big nets on board (drift net or trawl?) enter the harbor during the night between 2:00 a.m. and 4:45 a.m., but without landings of highly migratory fish, at least that we can see. More trawlers enter and leave as well.
Sunrise starts at 5:45 a.m., and we become visible. It's best to leave. We walk along the harbor, and in the meantime, PASQUALE is entering again: here we are! Fishermen and men on the Bagnara tower all look at us. We walk slowly, waiting for PASQUALE to dock. She moors, and as the guys unload an adult swordfish, Antonio shoots the scene. The fishermen leave; we walk along the boat, see the net, and document everything. We are excited. Everybody is looking at us, but we stay quiet and slowly walk towards the restaurant where the car is parked.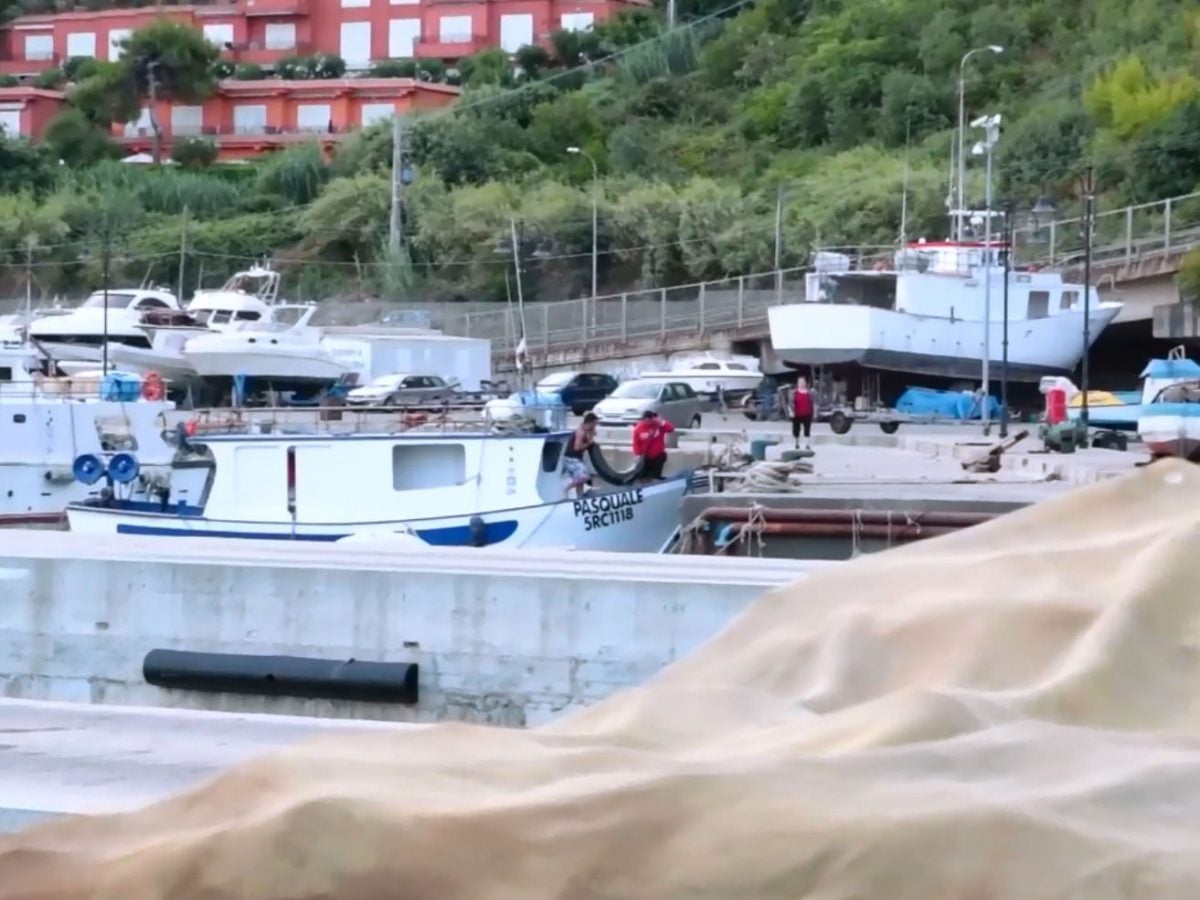 As we jump in the car and leave the harbor to head to Scilla for breakfast, we do not talk. At 6:30 a.m. we have a croissant and coffee. We talk about everything, but not last night. In Italy they say "also the walls have hears." We all know that.
Antonio leaves us in Scilla and drives back to Reggio to sleep. We go back to the B&B. It's the second night we spent awake, so we can't wait for a nap. But as soon as we arrive there the owner is awake and asks "Did you sleep well guys? Did you already have breakfast?" "Yes, thank you, we went for a fresh swim but now we need a shower – see you later – thank you," we say.
I faint on the bed, but at 10:00 a.m. my partner wakes me up and says we can't sleep—we're on vacation! We're tired, but we go for a second breakfast and have granite and brioche—the typical local breakfast (amazing!). We go to the beach and sleep there a couple of hours. We then go towards Reggio to reach Antonio and start working on the footage.
It's much better than what we expected. There are two swordfishes, and there the net on board. We really have something good. We have pictures as well from other boats. Let's put this together for the International Commission for the Conservation of Atlantic Tunas Conservation and Management Measures Compliance Committee and start sharing the video with colleagues.
Arrivederci Bagnara, it's not over yet! Indeed, we are aware that they fish undersize swordfish in autumn to eat them at Christmas's time (Here's a video to get a sense of it).
Learn more: Press release
*Note: The names in this story have been altered and the author's name has been removed to protect the individuals.