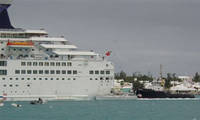 When Carlos pointed me to the immense cruise ship that was coming in through the Saint George Channel, my first reaction was to run to get my camera and go on deck to take photos. As so did my crew companions, including Nuño, the captain. Outside, the colossal ship from Norwegian Cruise Line advanced slowly, while diminute tourists looked around from the railings on deck. They were oblivious of course, to the harm these pleasure trips cause the environment and anaware of the dramatic moments we were about to live: the cruise ship crashed against one of the sail boats anchored at the bay and, loosing control of the ship, its trajectory pointed directly at the Ranger. As Carlos says,"to be close to land is dangerous. Fortunately, our crew has behaved very well, reacting to the emergency fast, like cats"
"Let's get out of here, now, lets go!" is the alarm call from Nuño, the captain. Carlos, the first officer realized the cruise ship had caught one of the sail boats by the stern and was dragging it after smashing into it and getting the sailboat's mast and takle trapped. "I did not see how it happened, but it crashed into the sailboat and is dragging it. It may be that the chain from the anchor is cought with the cruise shp's propellers. Afterwards, the transatlantic lost control" In seconds, the situation was upgraded to maximum risk for all occupants of the sailboat. And it posed some risk for a large number of boats anchored in Saint George as well, including the Ranger. The first thing we did was place a call to the cruise ship from the catamaran's radio to warn it "Norwegian Majesty, you have trappede a sailboat and you are dragging it hitched to your stern, this is an emergency call, you are dragging a boat"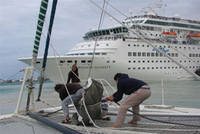 If we had been able to contemplate the Saint George bay from above, we would have seen a sudden dance of vessels trying to escape as swiftly as possible from the trajectory of the "monster" that was coming at them out of control, pushed by winds of 75 km per hour. We also hoisted the chains and if the situation had become any worse, we would have had to abandon the anchor and chain marked with a buoy and a beacon to come and get it later. Nuño reacted with excellent reflexes as he is accustomed to. Those were certainly moments of tension, but the crew has held their posts with swiftness. "Everyone lets veer the anchor!" "Everyone help hoist the anchooooor!" those were the captain's orders from the control bridge. "Keep in mind that from the control bridge he cannot see the angle or the tension exerted by the anchor…"
Nuño needed to know in which direction the chain was pulling to ease the tension at the reel that rolls it in, allowing the motor to move forward. Also, during today's maneuver to forcibly escape from the cruise ship's path, Indi and Jose Carlos had to help hoist the chain by muscle force. "A dangerous operation that must be done with maximum care, because if the chain had given a jolt, it could have shattered someone's hand" explains Carlos.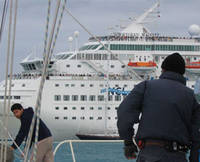 While the "Norwegian Majesty" was literally coming at us, the waters around it were changing colors; they were a very light shade of blue, surely due to the underwater current generated by the motors in full force trying to avoid further collisions. The occupants of the sailboat were very fortunate, because "they could have been dragged under the hull …they must have been able to set the chain loose or it broke off, they accelerated their motor and went off, but they left with serious damages, I saw one of their mast ropes bent and all their rigging apparel turned about".
Cruise ships are authentic floating cities that bring great contamination to our oceans. Close to 300 cruise ships that navigate on the waters around the world generate more than 14 million tons of residues. Oceana has worked incessantly until reaching an agreement from one the most important cruise ship companies in the world, Royal Caribbean to implement an advanced system of residual water treatment on its entire fleet. This is the first step to implement regulation to this mastodon fleet.