Report | May 27, 2010
The use of driftnets: a scandal for Europe, a mockery of the United Nations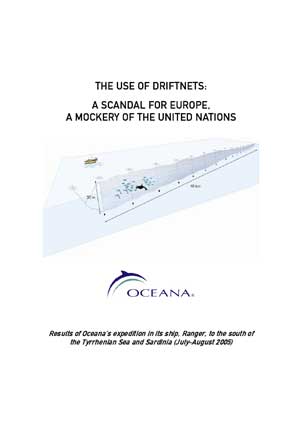 At a meeting in June 1998, the European Union's Council of Fisheries' Ministers passed a Regulation aimed at prohibiting the use of driftnets for part of the European fleet; a regulation that was to come into force on 1 January 2002.
At that time, some 670 Italian, 70 French and about 30 British and Irish vessels were using this fishing method. A few years before, about a hundred Spanish vessels that fished in the Strait of Gibraltar also used these nets. However, the Spanish Government had already prohibited their use before the Council decision was made.
The European Union took 6 years to accept United Nations Resolutions 44/225 of 1989 and 1991, which prohibited the use of large-scale driftnets on the high seas as of 1992, took 10 years to make it legally binding and still today, 13 years later, this type of illegal fishing continues to be a current feature of the fishing methods used by European fleets.
Similar recommendations and resolutions were passed by the General Fisheries Commission for the Mediterranean in 1997 and 2005, and the International Commission for the Conservation of Atlantic Tuna (ICCAT) in 2003.
What is more, the rather antisocial attitude of the European Union (EU) has encouraged other nearby countries to use this type of fishing method, following the bad European example. Such is the case with Morocco and Turkey. According to the Agreement on the Conservation of Cetaceans of the Black Sea, Mediterranean Sea and Contiguous Atlantic Area (ACCOBAMS), countries that may have used driftnets in the Mediterranean in recent years include: Albania, Algeria, Spain, France, Greece, Italy, Malta, Morocco, Monaco and Turkey.
At present, there are about 500 drift-net boats fishing in the Mediterranean and neighbouring waters (France 76, Italy >100, Morocco 177, Turkey 50-100); over 60% of these belong to EU member countries, or are prospective members.
Some of the governments involved, clearly in collusion with illegal fishing boats, have not only allowed this prohibited practice to continue, but have also tried different ways in which to get around existing regulations.
In order to bring about the dismantling of the driftnet fleet and to comply with the Regulation, the EU offered financial help to all of those boats that were found to be using these illegal nets. According to the European Commission, the boats could benefit from this aid for up to 50,000 in the event of giving up their activity, and 20,000 in the event of reconverting their fishing methods before 2002 (not to mention tax benefits and other subsidies received). The aid passed by the EU was retroactive, and could be requested by the boats that had been using driftnets between 1995 and 1997. This included Spain, France, Italy, the United Kingdom and the Republic of Ireland.