Report | November 10, 2016
Towards the recovery of European Fisheries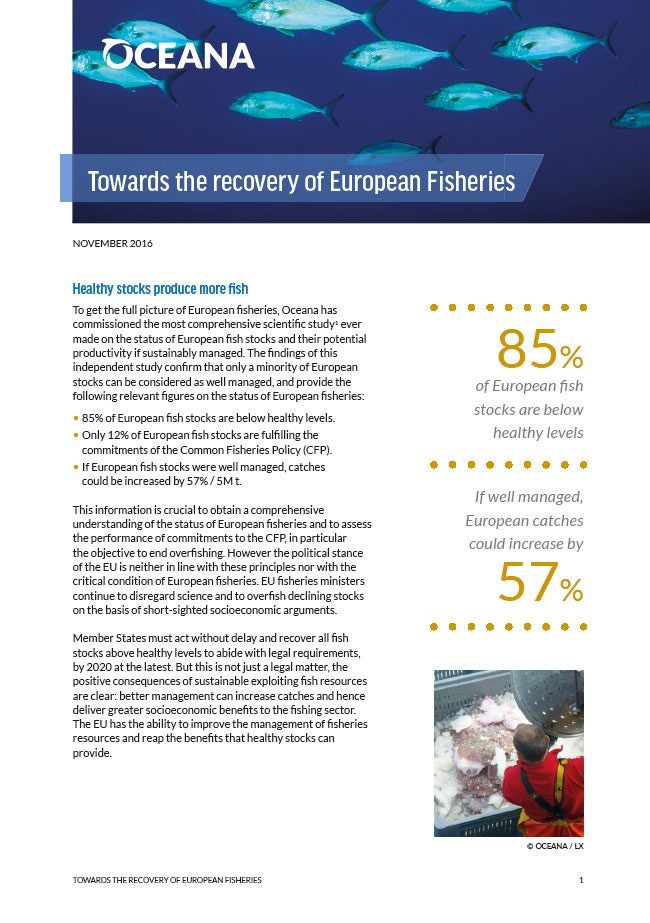 To get the full picture of European fi sheries, Oceana has commissioned the most comprehensive scientifi c study1 ever made on the status of European fi sh stocks and their potential productivity if sustainably managed. The fi ndings of this independent study confi rm that only a minority of European stocks can be considered as well managed, and provide the following relevant fi gures on the status of European fi sheries:
85% of European fi sh stocks are below healthy levels.
Only 12% of European fi sh stocks are fulfi lling the commitments of the Common Fisheries Policy (CFP).
If European fi sh stocks were well managed, catches could be increased by 57% / 5M t.
This information is crucial to obtain a comprehensive understanding of the status of European fi sheries and to assess the performance of commitments to the CFP, in particular the objective to end overfi shing. However the political stance of the EU is neither in line with these principles nor with the critical condition of European fi sheries. EU fi sheries ministers continue to disregard science and to overfi sh declining stocks on the basis of short-sighted socioeconomic arguments.
Member States must act without delay and recover all fish stocks above healthy levels to abide with legal requirements, by 2020 at the latest. But this is not just a legal matter, the positive consequences of sustainable exploiting fi sh resources are clear: better management can increase catches and hence deliver greater socioeconomic benefi ts to the fi shing sector. The EU has the ability to improve the management of fi sheries resources and reap the benefi ts that healthy stocks can provide.