Report | December 2, 2016
Reflagging by EU fishing vessels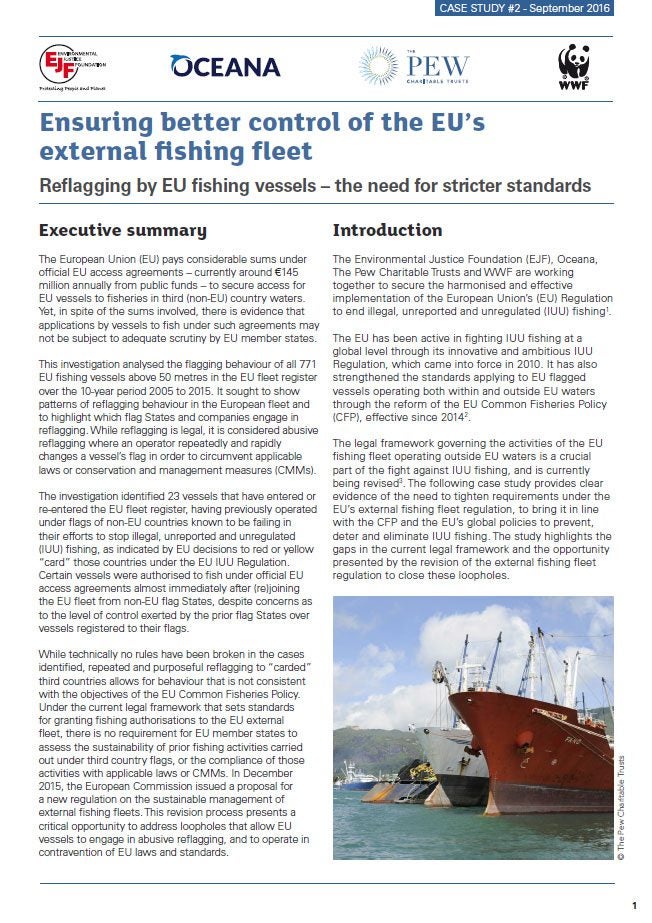 The Environmental Justice Foundation (EJF), Oceana, The Pew Charitable Trusts and WWF are working together to secure the harmonised and effective implementation of the European Union's (EU) Regulation to end illegal, unreported and unregulated (IUU) fishing.
The EU has been active in fighting IUU fishing at a global level through its innovative and ambitious IUU Regulation, which came into force in 2010. It has also strengthened the standards applying to EU flagged vessels operating both within and outside EU waters through the reform of the EU Common Fisheries Policy (CFP), effective since 2014.
The legal framework governing the activities of the EU fishing fleet operating outside EU waters is a crucial part of the fight against IUU fishing, and is currently being revised. The following case study provides clear evidence of the need to tighten requirements under the EU's external fishing fleet regulation, to bring it in line with the CFP and the EU's global policies to prevent, deter and eliminate IUU fishing. The study highlights the gaps in the current legal framework and the opportunity presented by the revision of the external fishing fleet regulation to close these loopholes.