Report | December 7, 2015
Oceana fishing opportunities recommendations for 2016. North East Atlantic stocks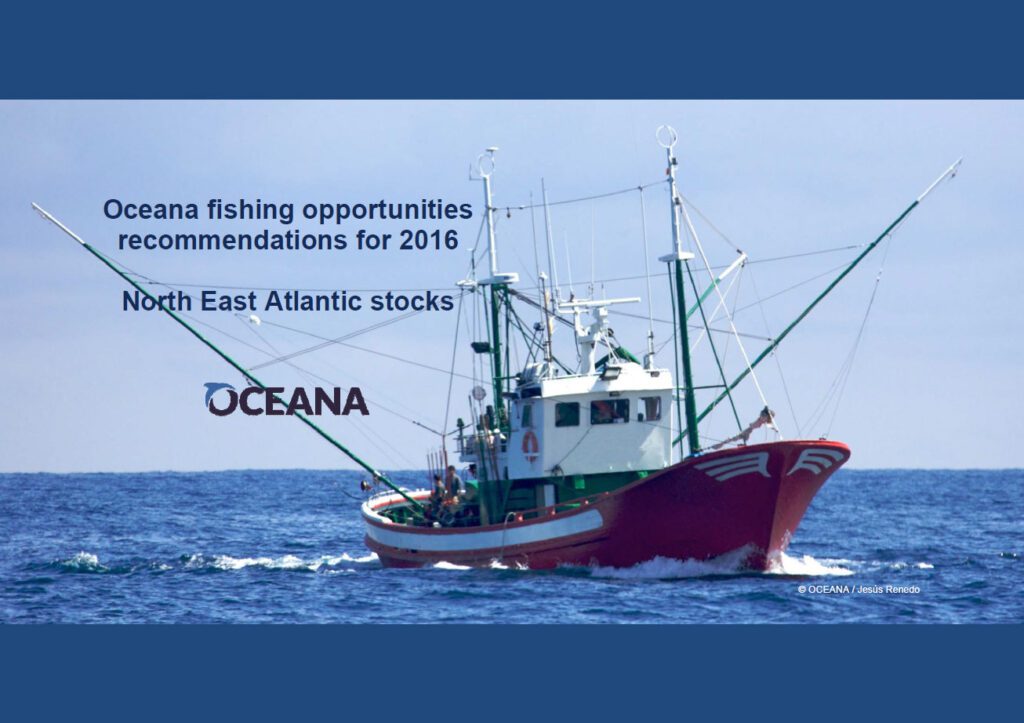 The establishment of fishing opportunities is the most important management tool to enable European Union (EU) fisheries to keep fishing mortality rates within sustainable levels. In fact, the state of fish stocks and intensity of fish resource exploitation depends heavily on the fishing opportunities decision.
Although the manner in which fisheries are managed in the Atlantic and Mediterranean is quite different, with no fishing mortality limits applying in the Mediterranean region, the results are still far from considered positive. In both regions, fishing mortality continues to be high and the statuses of fish resources are poor. According to the European Commission consultation document1, overexploitation currently affects 48% of Atlantic stocks and 93% of Mediterranean stocks. This condition undermines the objectives and binding commitments of the Common Fisheries Policy (CFP), and in particular seriously affects the fulfilment of CFP Article 2.2 and the 2020 deadline for sustainable fisheries.
The time frame and conditions to phase out overfishing are clearly stated in the CFP. According to the framework regulation, the exploitation rate of marine biological resources should be adapted to maintain populations of harvested stocks at sustainable levels, in particular above levels that can produce the Maximum Sustainable Yield (MSY), by 2015. A later date, with 2020 as an absolute deadline, should only be permitted if reaching those levels by 2015 would seriously jeopardise the social and economic sustainability of the fishing fleets involved. Unfortunately, the 2015 deadline expired with only a minority of stocks known to be exploited according to this approach.
Another commitment of the CFP directly related to the establishment of fishing opportunities is the landing obligation. The fishing opportunities established for the species affected by this provision have to reflect real catches, including previously discarded fish, rather than landings only. This adjustment should not result in an increase to the fishing mortality above scientific advice and exceed the MSY limit. To facilitate the implementation of the landing obligation, a number of provisions, flexibility measures and exemptions are already adopted.
Bringing overfishing to an end is essential not only to guarantee the sustainable exploitation of fish resources and to recover the profitability and social prosperity of fishing activities, but also to achieve the good environmental status (GES) of European Seas – the main goal of the Marine Strategy Framework Directive2 for which the aim is also achieve it before 2020.
Oceana supports the majority of principles proposed in the Commission consultation document for the establishment of fishing opportunities in 2016. Nevertheless, Oceana believes there is still a significant gap between sustainable fisheries management on paper and the actual management of fisheries in our seas.