Report | May 4, 2010
Northeast Atlantic deep-sea gillnet fishery management. Oceana's recommendations for permanent measures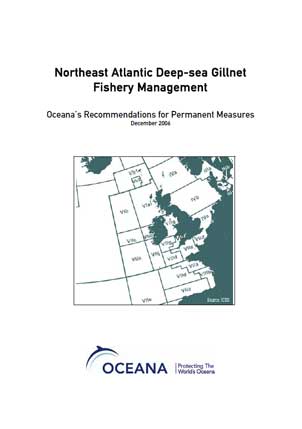 In December 2005, the Council of European Union Fisheries Ministers agreed on a measure to close the deepwater gillnet fishery in the North-East Atlantic (NEAT)1. The temporary closure, which took effect on 1 February 2006, encompasses waters deeper than 200 meters to the north and west of Great Britain and Ireland (ICES Divisions VI a and b, VII b, c, j and k, and Subarea XII east of 27o W; see figure 1).
This decision was made in response to the DEEPNET1 project report, highlighting the incredible waste in this fishery and the damage that it may be causing to deepwater sharks and other species. Prior to the closure, fishing with deep-sea gillnets in the North-East Atlantic had practically no legal restrictions and controlling the fishery was almost impossible. The poor selectivity of the nets and long soak times, combined with surpassed, inadequate, or nonexistent quotas, has led to the unsustainable exploitation of various fish and crustacean stocks in this region.
In December 2006, the Fisheries Council will make a decision on reopening, and implementing further regulations for, the deep-sea gillnet fishery of the North-East Atlantic. This fishery has intrinsic problems that need to be resolved as a matter of urgency, and decisions must be made on how it should be effectively and permanently managed. This paper points out the enduring obstacles in the NEAT deep-sea gillnet fishery and presents Oceana's recommendations for permanent management measures.