Report | September 1, 2017
Healthy fisheries are good for business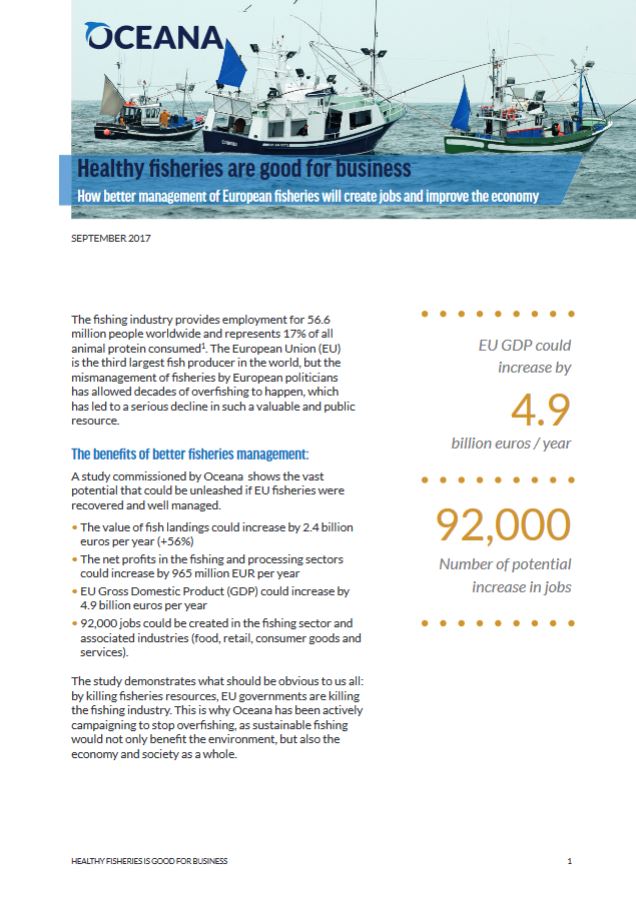 The European Union (EU) is the third largest fish producer in the world, but the mismanagement of fisheries by European politicians has allowed decades of overfishing to happen, which has led to a serious decline in such valuable and public resource.
A study commissioned by Oceana shows the vast potential that could be unleashed if EU fisheries were recovered and well managed.
The value of fish landings could increase by2.4 billion euros per year (+56%)
The net profits of the fishing and processing sectors could increase by 965 million EUR per year
EU Gross Domestic Product (GDP) could increase by 4.9 billion euros per year
92,000 jobs could be created in the fi shing sector and associated industries (food, retail, consumer goods and services).
The study, presented in this report, undeniably demonstrates what should be obvious to us all: by killing fisheries resources, EU governments are killing the fishing industry. This is why Oceana has been actively campaigning for an end to overfishing, as sustainable fishing would not only benefit the environment, but also our economies and society as a whole.