Report | December 7, 2016
Fishing opportunities recommendations. North-East Atlantic stocks 2017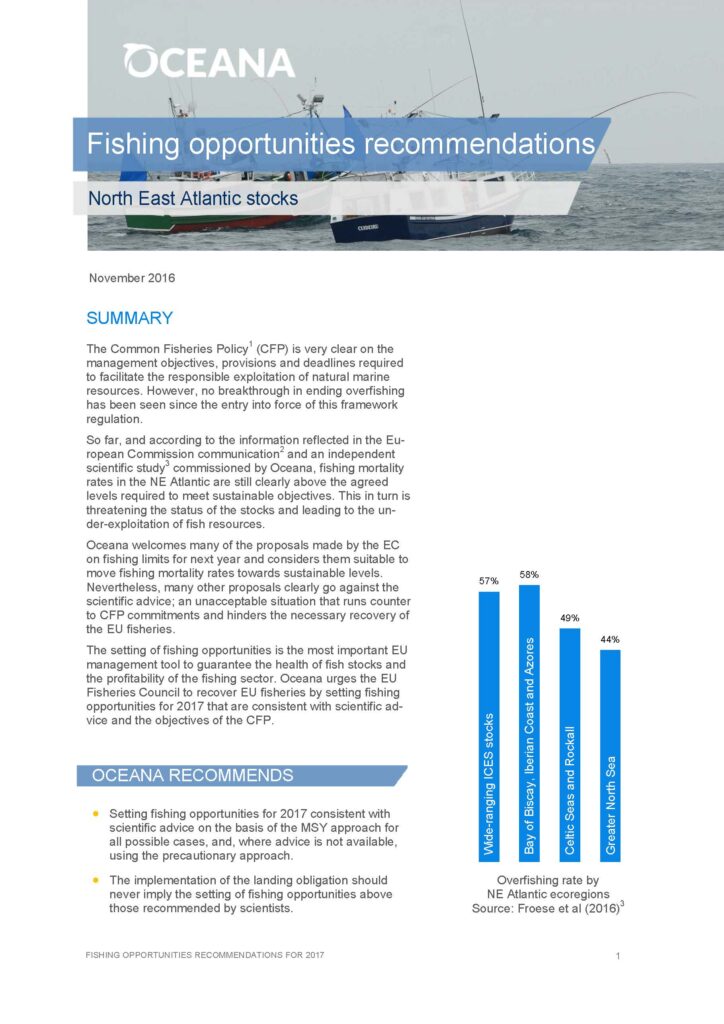 According to the information reflected in the European Commission communication and an independent scientific study commissioned by Oceana, fishing mortality rates in the NE Atlantic are still clearly above the committed levels required to meet sustainable objectives. This in turn is threatening the status of the stocks and leading to the under-exploitation of fish resources.
Over the past years, the status of NE Atlantic fish stocks has shown an overall positive recovery trend. This trend has been the direct result of the reduction in fishing mortality rates towards Fmsy and the narrowing of the gap between scientific advice and adopted catch limits. Nevertheless, there are indicators pointing out that many fish stocks are still in a problematic state, and that the recent positive trend has not only slowed down, but is now in fact reversing, putting at risk the previous progress. These concerning indicators include:
More than half of the stocks, 78 out of 153 (51%), are overfished.
The number of stocks exploited at sustainable levels has not increased during the last year.
Most of the stocks, 124 out of 153 (81%), are below healthy biomass levels.
The setting of fishing opportunities is the most important EU management tool to guarantee the health of fish stocks and the profitability of the fishing sector. Oceana recommends:
Set fishing opportunities for 2017 consistent with scientific advice on the basis of the MSY approach for all possible cases, and where not available the precautionary approach.
The implementations of the landing obligation should never imply a setting of fishing opportunities above those recommended by scientists.