Report | May 31, 2010
The dumping of hydrocarbons from ships into the seas and oceans of Europe. The other side of oil slicks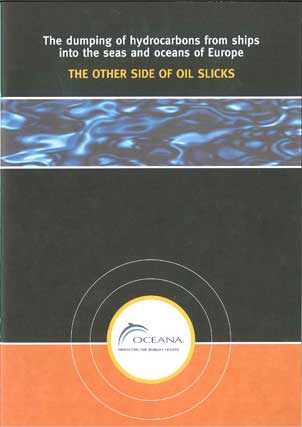 The serious environmental impact on European waters caused by oil tanker accidents such as the Prestige, Erika, Aegean Sea, Haven, Braer, Betelgeuse, Sea Empress, Amoco Cadiz, Torrey Canyon, Urquiola, etc., bears witness to the situation of hazardous merchandise transportation by sea.
Europe depends on this form of trade route for 70% of her imports, which can reach up to 90% in the case of crude oil.
The global transportation of crude oil moves some 1,600 – 1,800 million tons a year, the main destinations being the European Union and the United States who are the joint recipients of more than 50%. In the case of the EU, the total amount can reach almost 500 million tons of crude oil, added to which is transportation within the EU itself of this same crude or its refined products (fuel, diesel, petrol, naphtha, benzene, etc.), all of which can result in the annual movement of over 800 million tons of hydrocarbons.
The vessels used for this trade range from small coastal tankers of under 5,000 gross registered tons (GRT), normally used for transportation between Community ports, up to super-tankers of over 120,000 GRT or the ultra-large crude carriers of more than 300,000 GRT used for transoceanic transport, encompassing other regular tankers with a wide range of tonnages filling in the gaps between the other categories. At present, 35% of world ocean transportation is in crude oil and another 10% in refined oil products.
Bearing in mind that the average tonnage of an oil carrier is around 40-45,000 GRT, with a crude oil load of around 80,000 tons, more than 6,000 charters per year are needed to supply the demand for crude oil in the EU. It is estimated that around 1,500-2,000 bulk carriers, liquefied gas tankers, oil tankers and chemical tankers take care of transporting these products in Europe. Each of these vessels docks in various European ports, unloading some 10-25,000 tons of crude, on average, in each reception refinery.