Report | November 6, 2023
Call for the GFCM to increase transparency and effectively tackle non-compliance cases and IUU fishing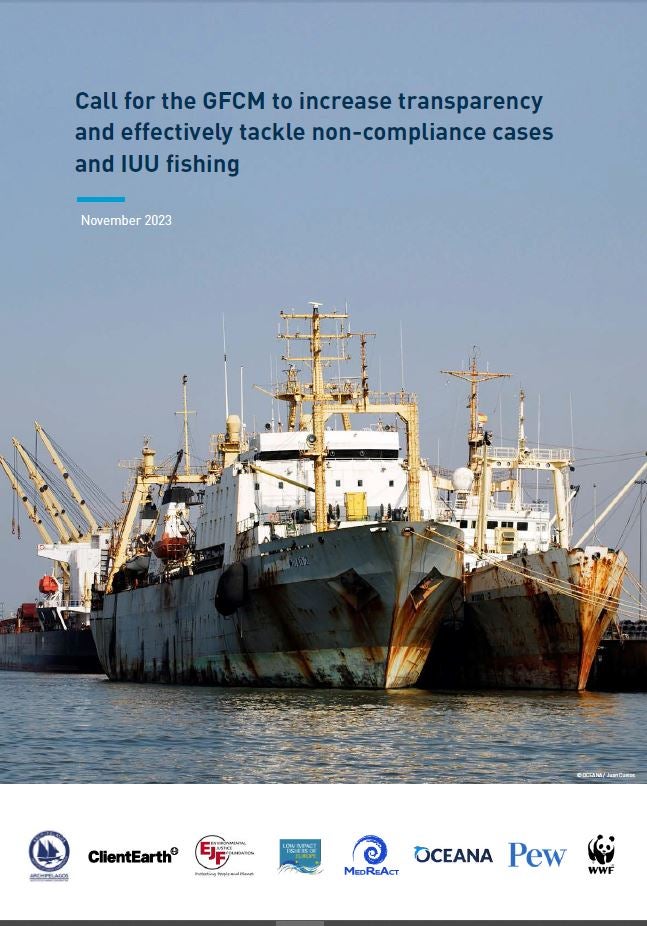 Ahead of the forty-sixth session of the General Fisheries Commission for the Mediterranean (GFCM) in Split, Croatia Oceana, together with Archipelagos Institute of Marine Conservation, ClientEarth, Environmental Justice Foundation, MedReAct, Pew Charitable Trust, and WWF, who work together to protect the Mediterranean Sea against the impacts of illegal, unreported and unregulated (IUU) fishing, are calling on the GFCM to take ambitious measures to tackle IUU fishing and all cases of non-compliance, and to act on evidence of such activities with deterrent corrective measures. This is a prerequisite for ensuring the survival of Mediterranean unique biodiversity and the communities that rely on marine resources.
Proper implementation of and compliance with GFCM recommendations is crucial to rebuild fish stocks in the Mediterranean and Black Seas to sustainable levels, as 73% of Mediterranean fish populations remain subject to overfishing.
For the forty-sixth session of the GFCM, we call the GFCM to:
Take effective action against cases of non-compliance by adopting dissuasive corrective measures in case of continued non-compliance, as required under part II.6 of Resolution 44/2021/13.
Establishing a framework that will allow the GFCM to intervene, in a proportional manner, in order to address cases of serious or repeated non-compliance is essential. This process must be strengthened by giving GFCM the means to effectively investigate and take appropriate follow-up corrective measures.
As highlighted in the 2017 OECD report on IUU fishing, RFMO deterrence mechanisms should include the establishment of well-defined deterrent corrective measures based on the gravity and recurrence of cases of non-compliance.
We, therefore, welcome the decision by the Compliance Committee in 2022 for GFCM to "liaise to the maximum extent possible with other RFMOs' Secretariats and report to the CoC and the Commission on their practices regarding actions against non-compliance with a view to adopt an annex containing these measures related to the relevant category and gravity of non-compliance".

In addition, the sixteenth Compliance Committee in Rhodes Greece concluded to "support the consideration by CPCs of appropriate corrective measures in the framework of the Compliance Committee and acknowledged the proposals for new GFCM decisions on compliance introduced by the European Union, which are expected to be submitted to the next annual session of the Commission for consideration, in consultation with other concerned CPCs".

We further welcome that the 2022-2024 Compliance Committee work plan clearly includes the creation of the annex and we urge the GFCM to fulfil this commitment, strengthen the mandate of the Compliance Committee and adopt a complete set of dissuasive corrective measures for non-compliant CPCs. Such robust corrective measures should include non-discriminatory market and trade-related measures or reduced fishing opportunities for repeat offenders.