Oceana urges strong ambition to restore nature and oceans, EU to lead by example
Strong protection of 30% of the ocean is needed by 2030 to build climate resilience and buffer from other threats like overfishing
Press Release Date: March 3, 2020
Location: Brussels
Today the European Commission and the UN Environment Programme launched a Global Coalition for Biodiversity, building momentum ahead of the international negotiations of the UN Convention of Biological Diversity COP15 in China in October 2020. Oceana welcomes this call for action and urges all governments to agree on ambitious post-2020 targets that protect oceans effectively, restore natural marine ecosystems and integrate strong climate resilience.
For Oceana, 2020 as the 'Super Year' for nature, is equally critical for our oceans. The latest assessment by the Intergovernmental Science-Policy Platform on Biodiversity and Ecosystem Services (IPBES) found that two-thirds of marine environments have been 'severely altered' by human activity, with overfishing the biggest cause of marine biodiversity loss over the last 40 years. A third of all marine mammals, sharks and coral reefs are threatened with extinction, while overfishing, pollution and climate change are fuelling nature's decline at rates unprecedented in human history.
"The climate and biodiversity emergency require transformative change to avoid critical consequences for humanity, including the collapse of food and health systems", said Pascale Moehrle, Executive Director of Oceana in Europe. "We call on the European Union to take responsibility by adopting an ambitious EU Biodiversity Strategy that sets binding targets to restore oceans by 2030 and lead the way internationally at COP15 to reach a Paris-style agreement for nature".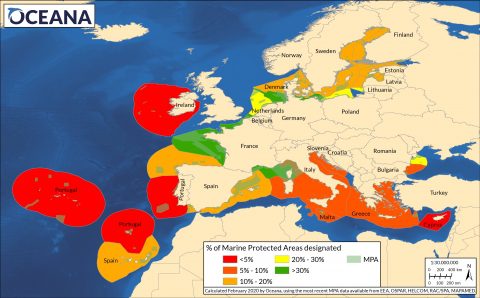 Figure 1: Percentage of MPAs designated by EU Member States, as of February 2020, clustered by traffic-colour coding, ranging from red (<5%) to green (>30%).
On marine protection, the EU journey to reach 10% of marine protected areas (MPAs) was a long path full of pitfalls, let alone efforts to achieve less than 1% of strictly protected areas. The prevalence of marine 'paper parks' illustrates the lack of political will to deliver: 85% of the current network of MPAs does not have any management in place and so delivers no benefits to the marine life that sites are intended to protect. Oceana urges the European Commission to step up its efforts with binding targets for the 2030 Biodiversity Strategy as follows:
A target of 30% of MPAs: strong protection of at least 30% of our ocean is needed to safeguard the global ocean on which we all depend. This 30×30 target must commit to at least 30% of Highly Protected Marine Areas (with no extractive activities) such as marine reserves and no-take zones. A recent study estimated that between 26% and 41% of the world's oceans needs to be protected to effectively look after the species dependent on them[1].
A focus on Fish Stock Recovery Areas: fisheries closures can protect effectively important habitats for fish (e.g. feeding, nursery grounds) and help rebuild fish stocks. These management tools, which have been ignored for too long, must be promoted as win-win solutions for nature and fishermen.
No net loss of blue carbon habitats by 2022 and a restoration target: Given the climate and ecological emergency, a priority aim should be to protect and restore all so-called 'blue carbon' habitats (e.g. kelp forests, seagrass meadows) that play a critical role in sequestering carbon and so helping to fight against climate change, as well as protecting our coasts and providing habitats to other marine species.
The future EU 2030 Biodiversity Strategy will be critical for setting ambitious targets for marine conservation under the EU Green Deal and guiding action across the Union accordingly. Only by setting these targets and following up with strong implementation can we achieve critical change needed to save our oceans and build the resilience of ecosystems in the context of the climate crisis.
Learn more:
Oceana's priorities for the 2030 Biodiversity Strategy
#Biodiversity2020 #NatureAlert
---