Oceana launches expedition to explore Quark area between Finland and Sweden
First-hand data on species and habitats will be used to develop transboundary protection of unique area
Press Release Date: September 3, 2018
Location: Madrid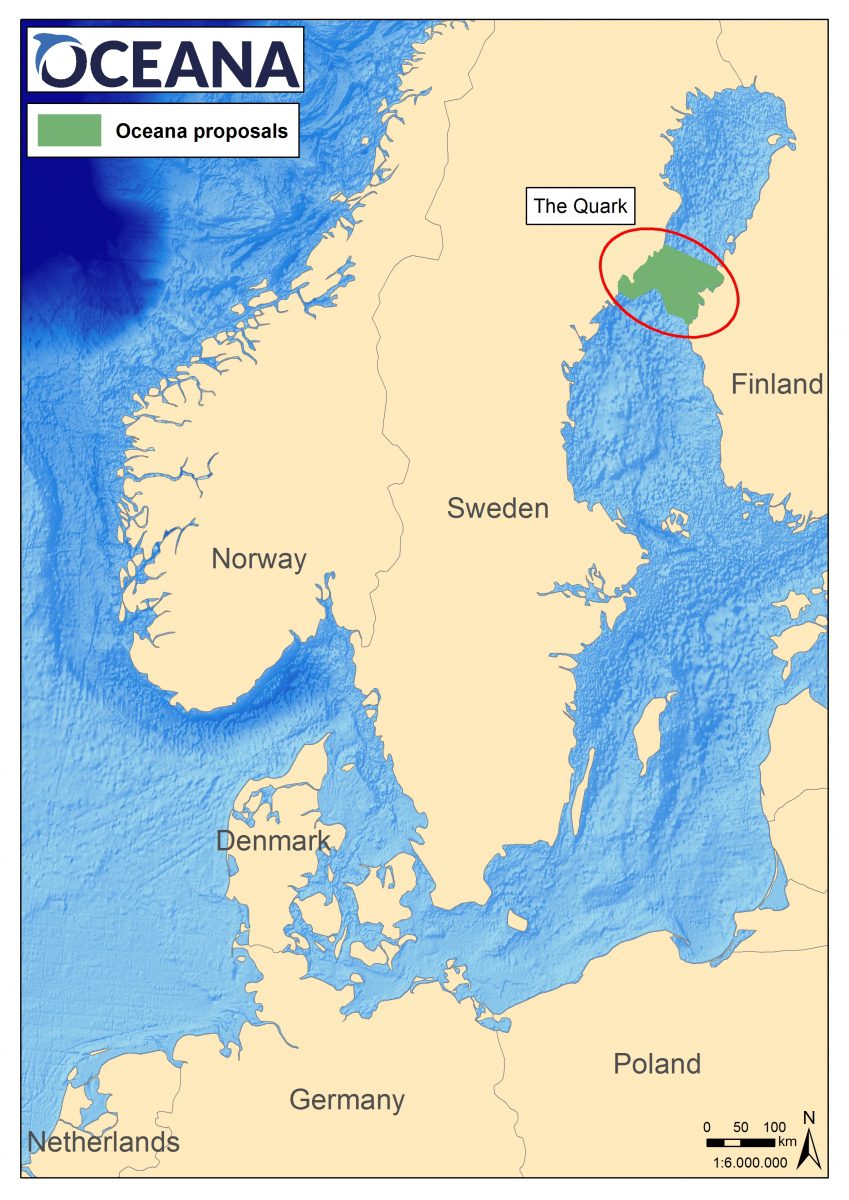 Oceana has launched a 20-day expedition to survey important areas of marine life in the Quark (also known as Kvarken or Merenkurkku), between Finland and Sweden. The organisation's second research project in the Quark is generously funded by the Swedish Postcode Lottery and will build on our initial surveys of the region in 2011 and 2013.
As well as hosting a UNESCO World Heritage Site, the Quark area is home to a unique mix of freshwater, brackish and marine species, as well as one of Finland's seven national seal protection areas.
The research voyage aims to gather data from across the archipelago, using a team of professional divers, a remote underwater camera system, benthic fauna sampling, and a drone. The information collected will be used to support the designation of a transboundary marine protected area (MPA) to safeguard this remarkable area shared between Sweden and Finland against threats including habitat degradation, pollution, and sand dredging.
"Marine life knows no borders, and the best way to protect the underwater diversity of this unique, shared archipelago is via a transboundary marine protected area," said Ricardo Aguilar, senior research director for Oceana in Europe. "More data are needed, however, to convince the governments of Sweden and Finland that the Quark needs more extensive protection – that is what we aim to achieve during this expedition," Aguilar explained.
The Quark archipelago, with its numerous islets, hosts feeding and breeding grounds for several types of seabirds and the shallow and protected bays provide important habitats for many fish species. Furthermore, the area has a land-uplift of an estimated 8.5 mm per year (one of the highest in the world) which has a great effect on the surrounding landscape and nature, for example by creating a steady succession of shallow marine bays that are biodiversity and productivity hotspots for marine life.
| | | |
| --- | --- | --- |
| | | |
| | Viviparous eelpout (Zoarces viviparus) © OCEANA / Carlos Minguell | Pond snail (Radix peregra) © OCEANA / Carlos Minguell |
Time is running out for countries to protect their waters. Though both Sweden and Finland have reached the minimum target of the UN Aichi Biodiversity Convention (Target 11), which stipulates that at least 10% of coastal and marine areas should be protected by 2020, the scientific community agrees that this is unlikely to be enough, and that the area protected should instead be at least 30%.
The data, high-quality video, and still images that Oceana collects during this expedition will form the basis of a detailed proposal for the creation of a transboundary marine protected area between Sweden and Finland. In addition, all of the data gathered will be shared freely with government agencies and scientists in both countries, in the interest of supporting broader efforts to improve marine protection of the region.
More Information: Quark Expedition