Oceana criticises UN and EU's failure to protect areas for young fish in the Mediterranean, the world's most overfished sea
Political commitment to establish region-wide network of Essential Fish Habitats by 2018 is ignored, jeopardising food security for popular fish
Press Release Date: October 29, 2018
Location: Rome
The EU and Mediterranean countries have failed to protect critical fish nursery areas for commercial species that are already overfished, some of which stocks are near to collapse. Despite growing international concerns over the state and health of the Mediterranean – the sea with the most fish stocks heading towards depletion (above 80%) – the UN General Fisheries Commission for the Mediterranean (GFCM) did not adopt any conservation measures to protect so-called essential fish habitats (EFHs).
These habitats are critical for the recovery of Mediterranean fish stocks as they act as a bulwark for commercial stocks against overexploitation. The GFCM's lack of action goes against the obligations signed in the Malta MedFish4Ever Ministerial Declaration in 2017[1], which has been actively promoted by EU Commissioner Karmenu Vella.
"Action, not words can save Mediterranean fisheries. GFCM countries must step up and deliver on their promises. The Mediterranean is already facing a fisheries crisis that threatens marine biodiversity and fish stocks, therefore jeopardizing food security, jobs and coastal economies," said Lasse Gustavsson, executive director of Oceana Europe. "Last year the ministers signed a Ministerial Declaration and committed to restoring Mediterranean fisheries. The GFCM's failure to protect essential fish habitats shows that this was just empty promises," added Gustavsson.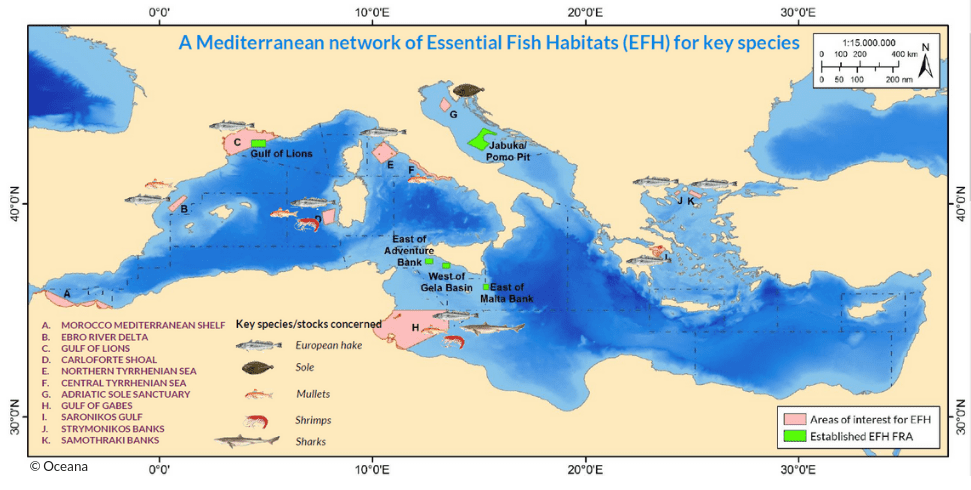 The GFCM is charged with overseeing fishing in the region and is made up of 23 countries plus the EU.
Throughout the course of the year, Oceana has repeatedly encouraged the GFCM to use ready-to-use scientific information to designate protected areas for EFHs in the Mediterranean. However, the GFCM and EU – as the major fishing player in the region – have ignored Oceana's recommendations aimed at reducing overfishing levels of young, popular fish species such as hake or mullets. By protecting these habitats from fishing impacts, fish can feed, reproduce and grow, a key precautionary measure for sustainable fisheries.