Oceana calls for urgent action by UK Government to end bottom trawling in Britain's Marine Protected Areas (MPAs)
Press Release Date: June 18, 2021
Location:
New data shows 10% increase in total trawling hours in UK benthic MPAs in 2020, despite COVID19
On World Oceans Day, 8 June 2021, marine conservation groups call on the UK and on devolved Governments to commit to ban trawling in Marine Protected Areas (MPAs) and properly protect our precious marine environment.
This coincides with the release today of 2020 data published by Oceana, which found that 68,000 hours of fishing with damaging towed gear took place in UK benthic MPAs in 2020. This is an increase of over 7,000 hours (10%) from 60,818 in 2019, despite the impact of the Covid 19 pandemic on fishing activity.
Also for World Oceans Day, Greenpeace UK has launched Operation Ocean Witness, using a new Greenpeace ship which will document and expose the destructive fishing practices the UK government still permits in Marine Protected Areas.
"We are calling on UK and Scottish Ministers to commit to ban bottom trawling in our Marine Protected Areas, rather than licensing it. If they cannot protect this small portion of our seas, what hope do we have for the rest of our ocean? With the ecological and climate emergency we are in, swifter action is needed and the UK, along with all G7 countries, should lead the way to ensure Marine Protected Areas are truly protected." Melissa Moore, head of UK policy at Oceana in Europe
"These shocking figures make clear that the UK's supposedly 'world-leading' network of marine protected areas aren't fit for purpose. What's the point in saying an area of seabed is protected when bottom trawlers can plough the seabed there for thousands of hours each year? The UK government needs to turn words into action and level up ocean protection by fully banning bottom trawling in all of the UK's protected areas." Chris Thorne, oceans campaigner at Greenpeace UK.
The UK has designated 64 offshore areas to protect seabed features and habitats, such as rocky and biogenic reefs, gravel habitats or cold-water corals. These benthic ecosystems are essential to the health of the marine environment and of species including commercially harvested fish populations.
The 2020 fishing activity inside UK benthic MPAs from the vessel tracking data platform Global Fishing Watch, cross referenced with the European Fleet Register, gives details of bottom-towed fishing as follows:
19 MPAs had over 1,000 fishing hours

22 MPAs had between 100-1000 fishing hours

21 MPAs had 1-100 fishing hours

2 MPAs had 0 fishing hours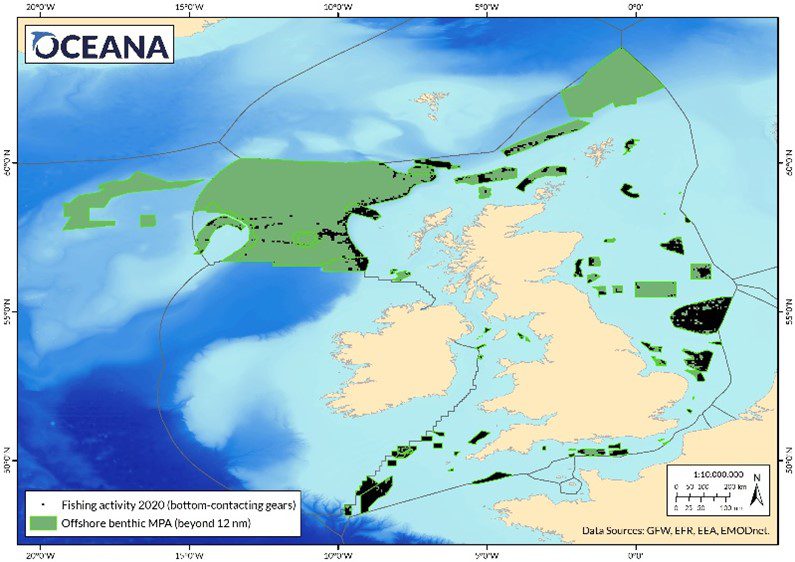 2020 fishing activity with bottom-towed gears in offshore benthic MPAs
The data confirm that, of the UK's 64 offshore benthic MPAs (i.e. designated for seabed protection), a staggering 62, or 97% are still subject to destructive bottom-trawling.
Since January 2021, after leaving the EU, UK Ministers have the powers to ban the most destructive industrial fishing vessels from UK MPAs straight away. Instead, the UK Government still licensed this activity in 2021 and will continue to do so in 2022 and 2023 despite marine conservation laws. It recently committed to introduce management measures within three years for MPAs off England following a legal challenge by Oceana and direct action by Greenpeace, but in the meantime this damaging activity will continue and there is still no commitment to completely ban bottom trawling in the MPAs. Meanwhile the Scottish and Welsh Governments have yet to make any commitments.
The four most impacted MPAs were all in the South-West, namely the "Western Channel", "South-West Deeps (East)", "South-West Approaches to Bristol Channel" and the Dogger Bank. The UK part of the Dogger Bank is soon to be protected but this still leaves scores of MPAs vulnerable to damage.
Trawling the ocean floor is incredibly destructive. The seabed habitats and wildlife being impacted include rocky and biogenic reefs, gravel habitats, cold water corals, seapens, ocean quahog and all the species dependent on these sites. This is not just an ecological disaster – trawling adds fuel to the climate emergency. According to a recent report, fishing boats that trawl the ocean floor release as much carbon dioxide as the entire aviation industry. The UK is one of the top 10 countries with the most carbon emissions from bottom trawling, and its seas are intensively impacted: 86% of the seabed in the Greater North Sea and Celtic Seas shows evidence of physical disturbance by bottom-fishing gear 1.
The message from conservation groups is clear: UK & devolved Ministers must commit to ban trawling inside Marine Protected Areas.
See pictures and footage of MPAs & the impact of bottom-trawling
here
.
#WorldOceansDay #BanBottomTrawling
_________________