FAO awards insurance initiative to curb pirate fishing
FAO's GFCM recognises Oceana and UN PSI campaign to mobilise insurance industry against illegal, unreported and unregulated fishing – with over 30 signatories so far
Press Release Date: June 12, 2019
Location:
Oceana and the UN PSI received an award yesterday from the FAO's General Fisheries Commission for the Mediterranean for their work on fighting illegal fishing. The recognition, given for best practices to curb illegal, unreported and unregulated (IUU) fishing in the Mediterranean region, was presented on Tuesday evening at the high-level MedFish4Ever conference in Marrakesh.
"We are very honoured to receive this recognition award from the FAO. Mobilising the private sector to tackle illegal fishing – as we have done with the insurance industry – can help safeguard the livelihoods of honest fishermen and women around the globe, rebuild fish populations, and restore ocean health", said Pascale Moehrle, executive director for Oceana in Europe.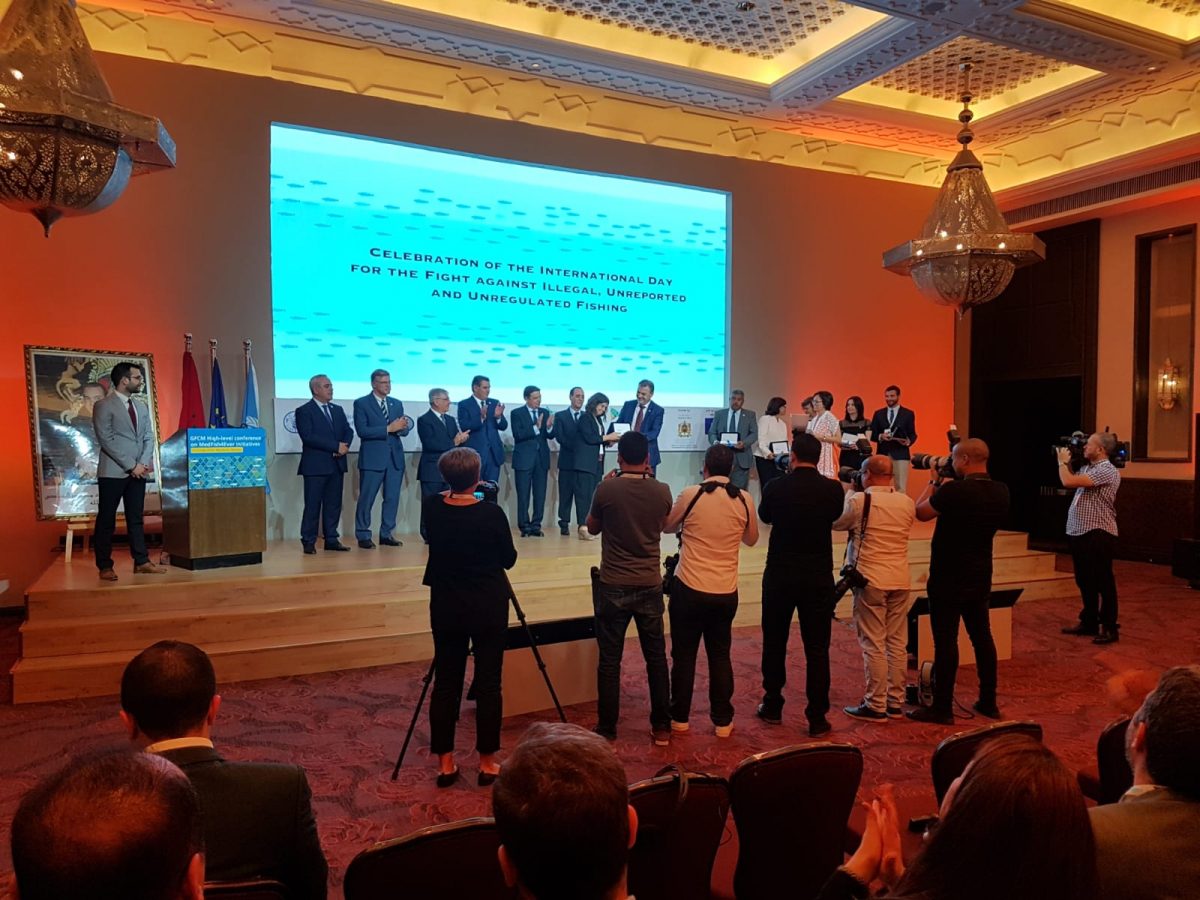 Policy and Advocacy Director María José Cornax accepts award on behalf of Oceana © OCEANA / Dana Miller
The award – for best practice in raising awareness and dissemination in the fight against IUU Fishing – recognises the efforts to engage and mobilise the insurance industry on IUU fishing. Since the launch in 2017 of an Insurance Industry Statement Against IUU Fishing led by Oceana and the UN PSI, over 30 global entities have supported the initiative to deny or cancel insurance to ships that have been blacklisted for their involvement in IUU fishing.
Additionally, earlier this year Oceana and the UN PSI released a set of guidelines to further assist insurers in avoiding contracts with vessels associated with IUU fishing, thereby cutting off a financial lifeline for IUU fishers and protecting insurance companies from economic, legal and reputational risks.
IUU fishing is a global problem and is behind 1 in 5 fish caught. Illegal and unreported fishing costs the global economy between $10 and 23.5 billion in losses annually, equivalent to 11 to 26 million tonnes of fish[1]. It depletes already overfished populations, can destroy vital marine habitats and ecosystems, and harms the livelihoods of law-abiding fishermen and women. Beyond fisheries, IUU fishing is often connected to other crimes, such as human trafficking, slavery or the transportation of illegal arms or drugs