Nicolas Fournier
Campaign Director
Oceana Staff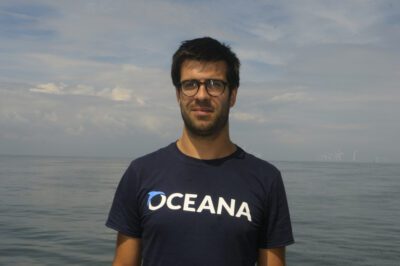 Brussels, being the greenest capital of Europe (in terms of green spaces J) has probably not the most direct link with oceans you can imagine. Indeed Belgium is not usually pictured as a symbol for oceans, tropical fish species, colorful corals reefs and other beauty of the marine environment.
However, being the political heart of the European Union, it is at the center of extremely important policy developments instrumental in protecting our oceans. EU competencies in terms of fisheries, habitats protection, pollution regulation, climate change action or maritime affairs should actually address marine biodiversity threats and span even beyond our initial conception of Europe (overseas territories, high seas and developing countries'territorial waters).
I previously worked in nature conservation following EU policies developments, more specifically on habitat protection and biodiversity. I am very concerned by the urgency to conserve our marine environment, as evidences show that we are getting closer and closer to the collapse of the entire marine ecosystem. The famous quote from my former President of the Republic, in 2002 at the UN Earth Summit in Johannesburg, is sadly still very accurate: "Notre maison brûle et nous regardons ailleurs. [Our house is burning and we look elsewhere]" – Jacques Chirac.
I now feel really happy to undertake this difficult but worthwhile challenge with Oceana. With its vision and its targeted approach, Oceana can make a difference and contribute to reverse the current trend. It is crucial for Oceana to be present, active and advocate to bringing marine issues higher on the political agenda, and eventually turn Brussels into a blue capital!