Liesbeth van der Meer
Senior Vice President, Chile
Executive Committee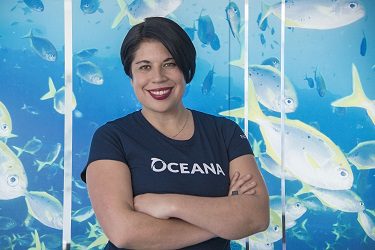 Liesbeth van der Meer is a doctor of veterinary medicine and earned her degree with a focus on salmon aquaculture at the University of Chile. She quickly became disillusioned with the salmon farming industry, which inspired her career in conservation. Liesbeth earned her master's degree in natural resource management and environmental sustainability with a focus on fisheries economics at the University of British Columbia, one of the most respected centers of fisheries research in the world.
Liesbeth began to work alongside leading scientists Dr. Daniel Pauly (Oceana board member) and Dr. Rashid Sumaila, contributing to the "Fisheries Economics Research Unit" (FERU) and the "Sea Around Us Project." Liesbeth participated in research covering sustainability and fisheries management, illegal fishing and the historical reconstruction of fisheries statistics in the Dominican Republic and Chile.
After six years in Canada, she joined Oceana in Chile in 2013 as the Director of the Fisheries Campaign, focusing on recovery plans for hake and horse mackerel. Liesbeth's science and advocacy efforts have made significant contributions to Oceana's victories in Chile including the revision of the Fisheries Act, demands for more accessible and transparent information on antibiotic use in Chilean salmon farming and the creation of the Nazca-Desventuradas Marine Park, one of the greatest marine conservation victories in Chilean history.
In 2016, Liesbeth became the new Vice President of Oceana in Chile.