Joe Vasconcellos
Celebrity Supporter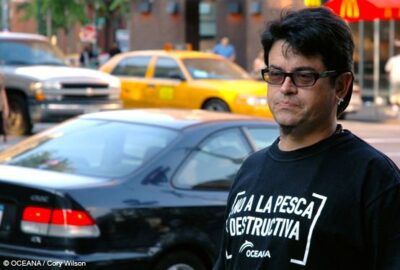 Born to parents of Chilean and Brazilian heritage, it's no wonder that Joe Vasconcellos' music can not be confined to a single category. In any one song for example, he can combine Latin rhythms with Brazilian percussion while also including music and lyrical features from Chile's native Mapuches culture.
He played with Congreso, a legendary Latin American progressive-folk band, and Brazilian singer Maria Creuza before embarking on a solo career in the 1990s. Catapulted by a string of hit records, Vasconcellos's ethnically diverse sound and eco-socially charged songs lead him to international acclaim.
One such song, "Los Peces No Gritan" ("The Fish Don't Cry"), confronts driftnetting with a poetic and inspired quality that makes Oceana proud to count him among our many supporters. "Imagine you're a fish," he sings, "wouldn't it be nice if there were no more nets." After reminding his audience to pay attention to marine life and to possess the vision for sustaining healthy seas, he ends on a somewhat ominous note, asking "Where do you fish with all the sadness of this land?"
In the summer of 2006, Oceana was honored to welcome Joe aboard the Ranger catamaran as it sailed in the Mediterranean documenting illegal driftnetters and the many beautiful forms of marine life that call the "Mare Nostrum" home.