Elsa Pataky and Chris Hemsworth
Celebrity Supporter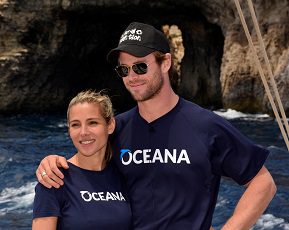 "We don't think enough of how much we take from the oceans, and how little we give in return. We should all be working to ensure that they can continue to be our planet's warehouse. I have no doubt that the most important heritage we can give to our children is a healthy planet, with rich oceans, full of life, so they can also enjoy the most valuable wealth we possess. This is our legacy, and it's our responsibility to preserve it and take care of it".
The marine environment provides us with food, absorbs carbon dioxide, regulates the climate, provides us with medicines and is source of work and leisure for hundreds of thousands of people. Elsa Pataky and Oceana share the belief that we cannot let the destruction of the oceans go on and we firmly believe that we still have time to stop it.
"I spend large amounts of time by the sea, a place that is linked to some of the fondest moments of my life. The sea is always there for us – providing food, energy, and cleaner air. But what do we do for it in return? Do we prevent it from getting polluted? Do we use its resources sustainably, so that generations to come can also benefit from healthy species and ecosystems? My answer is no: we don't do enough to save the ocean".
Starting in 2012, Elsa will be collaborating with Oceana on its marine conservation campaigns. She is especially concerned about the large amounts of endangered marine wildlife and the rampant destruction of sea floors around the globe.