Almudena Fernández
Celebrity Supporter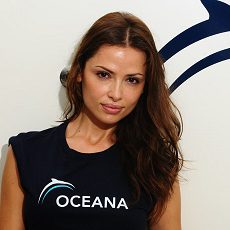 Almudena Fernández is a Spanish model, eco-activist and Oceana supporter. In August 2010, Fernández participated in Oceana's expedition in the Gulf of Mexico to help spread the word about the plight of the gulf and the dangers of offshore drilling.
She has been featured in fashion magazines including Elle, Vogue, Cosmpolitan, Shape and Harper's Bazaar, and she has been photographed for Hermès, Givenchy, Cartier, Revlon, Lacoste, Carolina Herrera, among many others.
Fernández is also a passionate environmentalist. She has worked with Greenpeace's campaign to stop the pollution of the seabed, and since March 2008, she has been collaborating with former Vice President Al Gore to spread his message about the environment and sustainability. She is Mr. Gore's official spokesperson for Spain, and in March of 2010 became the Climate Project Director of Ambassadors in Spain and Latin America, an affiliated organization.
She has also been named goodwill ambassador to the Spain and Portugal incarnation of the Rock in Rio music festival, a festival that spans seven days while producing its own energy through solar and hybrid technologies; Rock in Rio is the biggest music festival in the world.