Seafood Fraud: Overview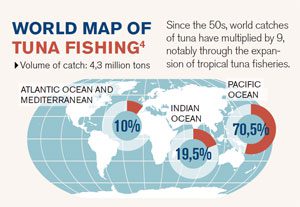 Seafood fraud is the practice of misleading consumers about their seafood in order to increase profits. Along with ripping off shoppers, these actions can have negative impacts on marine conservation efforts and human health.
Types of seafood fraud include substituting one species for another without changing the label, including less seafood in the package than is indicated on the label, adding too much ice to seafood in order to increase the weight and shipping seafood products through different countries in order to avoid duties and tariffs.
Although seafood is one of the most popular foods, consumers are routinely given little or no information about where their seafood is from. Plus, the information provided on seafood labels is often misleading or fraudulent.
DNA testing is now confirming anecdotal reports that seafood fraud is disturbingly widespread. Both scientists and amateur seafood sleuths have exposed seafood fraud across North America.

La fraude aux poissons. NUISIBLE POUR NOS OCÉANS, NOTRE SANTÉ ET NOS PORTEFEUILLES.