Learn more:The Case of France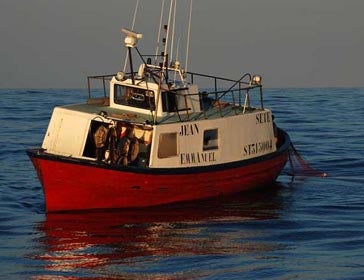 French drift nets known as thonailles were used to catch pelagic species, including immature bluefin tuna in the Gulf of Lion. This illegal gear was used with connivance and support from the French government, taking advantage of a legal loophole in EU legislation. However, Oceana reported these vessels since the ban on drift nets came into effect in 2002, because there is absolutely no difference between these and the thonailles.
The characteristics of thonailles are as follows:
Length: between 2,500 and 10,500 meters.
Mesh size: 180-240 mm, in some cases reaching up to 360 mm.
Target species: swordfish and bluefin tuna
Thanks to the approval of new Community regulations that included a definition of driftnets, the legal loophole no longer exists and the use of thonailles is now outside EU legislation.
Results of the 2007 campaign
According to our observers, there were not much fishing activity going on with these nets. However, we detected a large quantity of nets on the docks that seemed ready to be used. As such, we asked the French government to be coherent and forceful when applying legislation and to remove and eliminate all of the nets that constitute illegal drift nets.
Following are the results of the 2007 campaign:
69 registered vessels with nets on board or gill net vessels with fishing rights for bluefin tuna in 2006.
From the Ranger, 22 netters were documented fishing in the Gulf of Lion. Six of these were fishing in the Pelagos Sanctuary.