Learn more: Menorca Canyon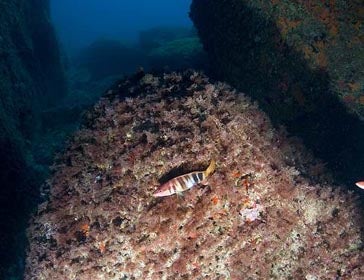 Less than 5 kilometers off the southern coast of Menorca island lays the Menorca Canyon. In 2006, researchers from Oceana were some of the first to have ever explored the depths of the canyon.
The canyon ledge lies in 85 to 90 meters of water and quickly descends over 240 meters — the deepest Oceana's remotely operated vehicle had gone. More recent work (Acosta et al 2009) revealed that the canyon reaches depths of over 1,400 meters. The walls of the canyon are dotted with corals and sponges, including the impressive yellow tree coral. The canyon is also home to several fish species including: anglerfish, comber, scorpionfish, and John Dory.
The canyon is bounded by two sea mounts, Mont Jaume I and Mont Colom, composed of volcanic materials. The Menorca Canyon is the principal sediment pathway to a deep basin and acts as a major conduit for the shelf sediments delivered to the Menorca Fan, located at the mouth of the Menorca Canyon.