Oceana Ranger Expedition 2013: Study unknown Emile Baudot escarpment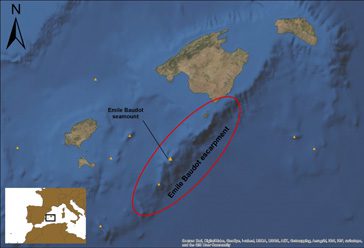 Oceana's 2013 Expedition is bound for the Emile Baudot Escarpment, a large rocky wall to the south of the Balearic archipelago for which there is no data whatsoever about its ecosystems. A team of scientists, technicians and camerapersons from Oceana will study this escarpment as they pass along the south of Cabrera National Park, with an underwater robot at a depth of one thousand metres that will capture video images and collect samples.
The escarpment, which spans almost 300 kilometres between the south of Formentara and Menorca, rises out of the Algerian-Balearic Basin. It is one of the deepest areas of the Spanish Mediterranean, as it starts at more than 2,000 metres below sea level and reaches the continental shelf at a depth of just over 200 metres.