Learn more: Boat Description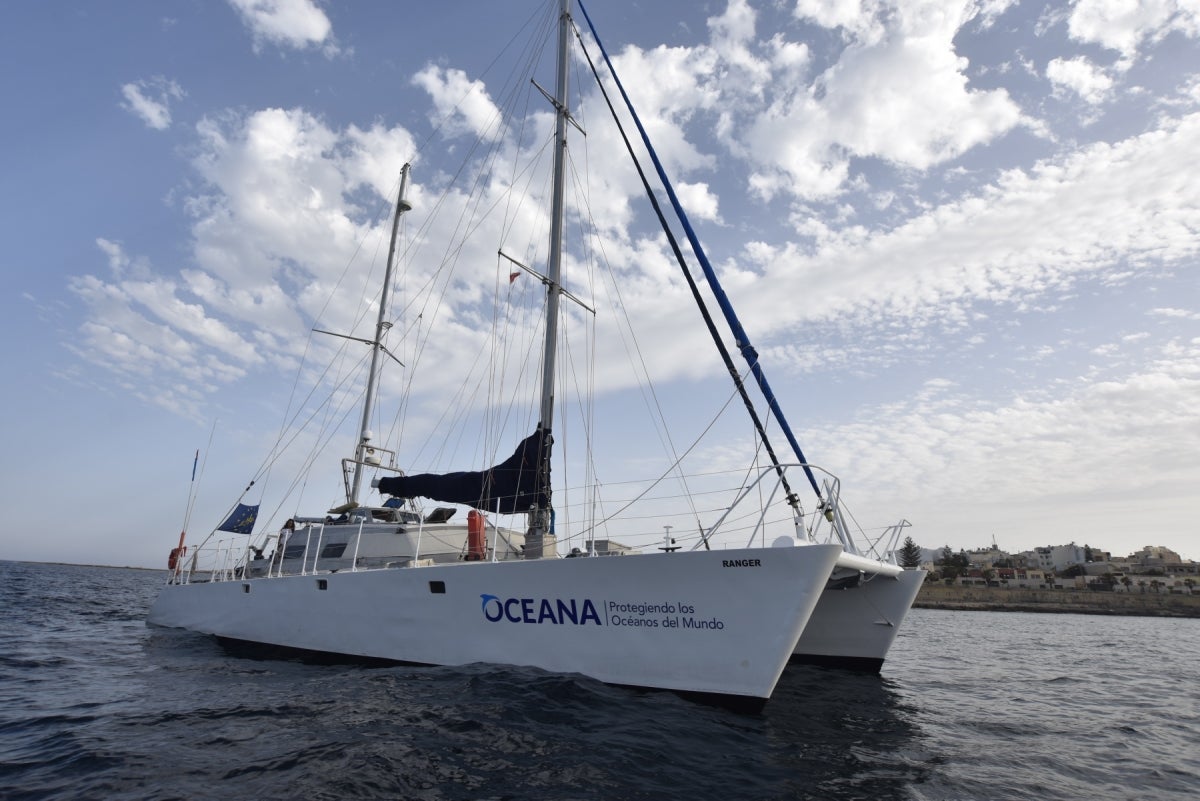 Name: Ranger
Official Number: 921593
MMSI: 235116965
Call Sign: 2JLQ9
Flag: United Kingdom (UK)
Port: Falmouth
Gross Tonnage: 43,80
Type of boat: Aluminium Catamaran designed by Lock Crowthers, built in 1986 in Oregon. It is one of the largest doublemasted catamarans in the world.
Dimensions:
Length: 71 feet (21,64 meters)
Breadth 32 feet (9,63 meters)
Engines:
2x Volvo Penta D4-180
Accommodations:

4 double cabins
2 triple cabin
2 toilets
Shower bath
Messroom
Galley
Deck Layout:

Hydraulic A-Frame/crane
Sighting station
Net cover on bow
Rain water gathering system
Covered bridge
Electrical:

Solar panels
Wind generator
2x Diesel Generators (110V/230V)
Voltage stabilizer
24V/12V DC batteries
AC/DC inverters
Navigation:

Chartplotter
Radar
Echo-sounder
Wind instrument
Auto-Pilot
AIS system
2x VHF radio
2x HF radio
Satellite communications
Walkie-talkies
Safety:

EPIRB radio beacons
Life rafts
Life rings
Life vest
Survival suits
Flares kits/smoke canisters/parachutes
SART
Fire Extinguishers
Emergency portable VHF
Sails/Rigging:

Ketch rig
Main sail (3 reefs)
2x Furling bow sails
Storm Jib
Mizzen
Electric and manual winches
RIB:
(Rigid-hulled inflatable boat) with four-stroke outboard motor
Ground Tackle:

Maxwell-Nelssin electric windlass
Main anchor with 120 feet chain and spare anchor
Storage:

Provision store
Deck lockers (Sail room, Scuba dive room, Workshop, Engine store)
The research catamaran Ranger is crewed by professional sailors and has all the equipment and technology to carry out the tasks needed to develop research campaigns.
It is equipped on board with OLEX bathimetry systems, navigation computer with MaxSea charting, Oceanography winch with metre-counting, Van Veen dredger, CTD, and a scuba diving compressor.
Safety: The Ranger was built to American Bureau of Ships (ABS) standards — the most stringent in the world. The vessel has 10 watertight compartments, and even if the two largest are flooded, it can still make way safely under sail or motor. The Ranger can cruise on one of the two diesels or on one of the two sails.
Resistance: Unlike normal vessels, the Ranger is made almost entirely of marine alloy 5086 aluminium, a corrosion-resistant material that welds to almost 100 percent strength, instead of the 65 percent strength for the 6061 extrusions sensible to corrosion used in other vessels. The Ranger can face tough tests on its 5/16-inch bottom sheets and pound for hours in the surf under extreme conditions without affecting its integrity. LeFeill, builder of high-tech tubing for spacecraft, engineered and built the sailing rig to withstand tough conditions at sea.
Reliability: Every system has a backup: there are two fixed GPS systems incorporated to chartplotters, five ways to generate DC current, two ways to generate AC current, two AC generators, three depth sounders, two anchor lines, two HF radios and two fixed VHF radios. There is a Sat-Com system and Irisium system that provides internet via satellite allowing email access and weather forecast reports.