What is the NRL and why does it matter?
In June 2022, the European Commission proposed a new EU law – the Nature Restoration Law (NRL) – with the objective of restoring 20% of European seas (and land) by 2030, and almost all degraded ecosystems by 2050.
The Nature Restoration Law has the potential to be a gamechanger. It is the first law on nature in the last 30 years and an unmissable opportunity to tackle the triple crises of climate change, biodiversity loss, and environmental degradation by restoring damaged habitats, protecting marine carbon stocks, and ending overfishing.
It is being negotiated in both the European Parliament and the Council of the EU, where it is facing opposition from conservative political forces and the industrial fishing industry to water it down or limit its scope as much as possible. The complex political context – the war in Ukraine and rising energy and food prices – are being used to prevent the adoption of this yet necessary environmental legislation. The two EU institutions aim to reach a political compromise by the end of 2023.
However, to be effective in the ocean, decision-makers need to stand by their commitments and adopt an NRL that is ambitious enough to match the level of urgency of current times, by:
Banning destructive fishing practices, such as bottom trawling, from all EU Marine Protected Areas (MPAs) and future restoration areas.
Ensuring better implementation of the Common Fisheries Policy to restrict destructive fishing where necessary and enable timely and effective marine restoration.
Prioritising passive restoration, through the creation of no-take zones or strict protection areas – where human pressures are removed – as the most effective way for ecosystems to regenerate, and nature (and fish populations) to grow back.
Strictly protecting restored areas up to 10% of EU seas, to help EU countries achieve the EU Biodiversity Strategy's targets of delivering a healthy, productive and resilient ocean by 2030.
Watch our video on why we need an ambitious Nature Restoration Law. Also available in Spanish, French, and German.
What are the economic benefits of marine restoration?
A European Commission impact assessment on the NRL proposal shows that every euro spent on restoration delivers a return on investment between EUR 8 and EUR 38, depending on the ecosystem, in benefits from the many services healthy ecosystems provide. Indeed, it says, the benefits of nature restoration far outweigh the costs.
Several examples of strictly protected MPAs in Europe have proven successful in boosting not only fishers' catch and income, but also local 'blue' economies which rely on a healthy ocean, like tourism, recreational activities, and hospitality – diving, angling, boating, hotels and restaurants. These local blue economies also employ more people than the fishing sector – coastal tourism employs five times more.
Businesses also recognize the need for the NRL
In March 2023, Oceana teamed up with outdoor clothing retailer Patagonia to organize a film screening event in the European Parliament, followed by a panel discussion with MEPs Catherine Chabaud, Caroline Roose and Isabelle Carvalhais, President of the Low Impact Fishers of Europe (LIFE) and protagonists of the films. The event revealed the benefits of nature restoration for businesses and local coastal communities across Europe and progressive businesses voicing their support for it. Read more in our blog and watch Patagonia EMEA Environmental Director explaining why the law matters for businesses:
Beth Thoren, Director of Environmental Action at Patagonia, explains how businesses will benefit from the Nature Restoration Law.
Increasingly, progressive businesses are showing their support for the Nature Restoration Law. They rely on natural resources and see that restoring nature is critical for their future survival. Investing in nature restoration is an insurance to buffer against the instability of degrading nature, which already generates unforeseen disruptions to business operations and supply chains. More here.
Have your say and support a strong NRL
Oceana has joined an initiative to engage citizens and supporters to get their elected politicians to support the ambition of the proposed Nature Restoration Law. You can do this by sending a message to your national Member of the European Parliament and government ministers, along with a personalised image depicting a restored marine landscape – take action today!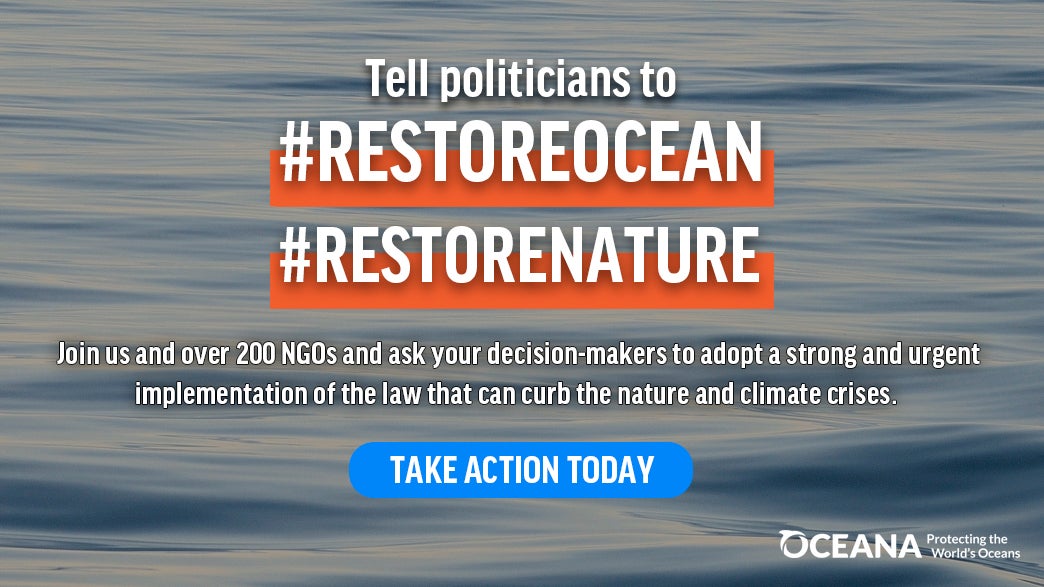 Oceana is an active supporter of the #RestoreNature campaign.