Illegal, Unreported and Unregulated (IUU) Fishing
Illegal, unreported and unregulated (IUU) fishing is a problem that affects the ocean worldwide and costs the global economy tens of billions of euros every year. It destroys marine habitats, adds pressure to fish populations that are already at risk of over-exploitation and undermines efforts to responsibly manage and protect the ocean. IUU fishing exploits the natural resources of coastal nations, reduces economic opportunities and threatens food security, particularly in developing countries. Those that participate in IUU fishing break or avoid the law by operating without a license, fishing where it is forbidden, using illegal gear, catching endangered species or taking more than what is allowed.
IUU: A Global Issue
IUU fishers avoid national and international rules and operate outside the reach of government control. They do not only hide their vessels at sea, but also use shell-companies and tax havens to mask their identity and hide money-flows. They often carry out their activities in an organised, systematic scale globally, involving structured criminal networks. For these fishers, it is currently a low-risk activity that delivers big profits. IUU fishing takes place beyond and across boundaries, flourishing where transparency and governance systems are weak. This means that until we have more information on who can fish what, where and when, this globally pervasive problem will persist.
Investigate and gather evidence on IUU fishing activities through Global Fishing Watch, expose illegal fishing, and submit formal complaints to national and international authorities.

Advocate for the inclusion of vessel tracking requirements for all EU fishing vessels—including nearly 50,000 small scale fishing vessels—in the future EU law on fisheries control.

Promote that requirements for transparency and access to public information on EU Member States' control efforts are included in the future EU law on fisheries control.

Help to stop illegal fishing in the Mediterranean Sea by making public who can fish what, where, and when.

Collaborate with companies that provide services to the global fishing industry to pull the plug on IUU fishing.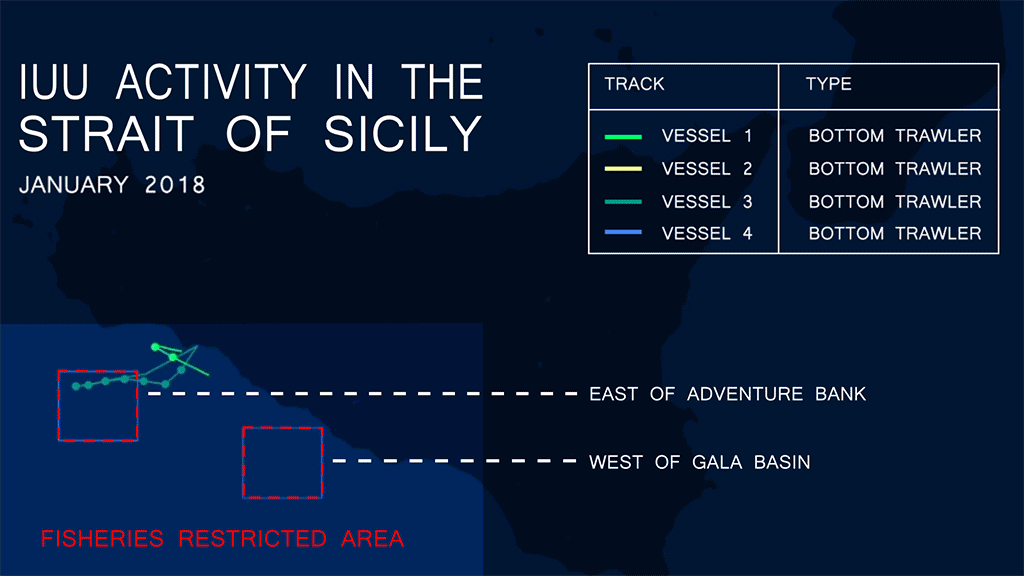 Animated composition showing data gathered by GFW by Oceana in the Strait of Sicily