Follow the Fish

When you buy a tin of tuna, do you really know what you're getting? Perhaps you've wondered whether it's sustainable, but found no useful information on the label or package? 
There's a loophole in EU law; while fresh fish must be traced from sea to plate, processed fish does not. So, while we're given crucial information such as species name, origin and catch method about products such as cod fillets, we're left in the dark when it comes to processed products such as tinned tuna or fish fingers. Despite your best intentions to eat sustainable fish, you might  be buying products that come from illegal, unsustainable, or unethical fishing. The origin of a product is especially important in the EU, as a staggering 65% of the fish consumed in the EU is imported. 
What is the 'Follow the Fish' Movement and what are we asking? 
The Follow the Fish movement aims to gather the most important players such as chefs, seafood businesses, and consumer organisations to tell EU decision-makers that we want to know if the fish we buy and eat is sustainable. We plan to release the Follow the Fish statement in June ahead of the publication of the proposal for a new law, the Framework for Sustainable Food Systems (FSFS), that aims to improve sustainability, including for seafood. 
We therefore are calling on the EU to: 
Create an EU-wide sustainability ranking system that includes both environmental and social criteria for seafood. 
Make this ranking system mandatory for all seafood consumed in the EU, including processed and imported products.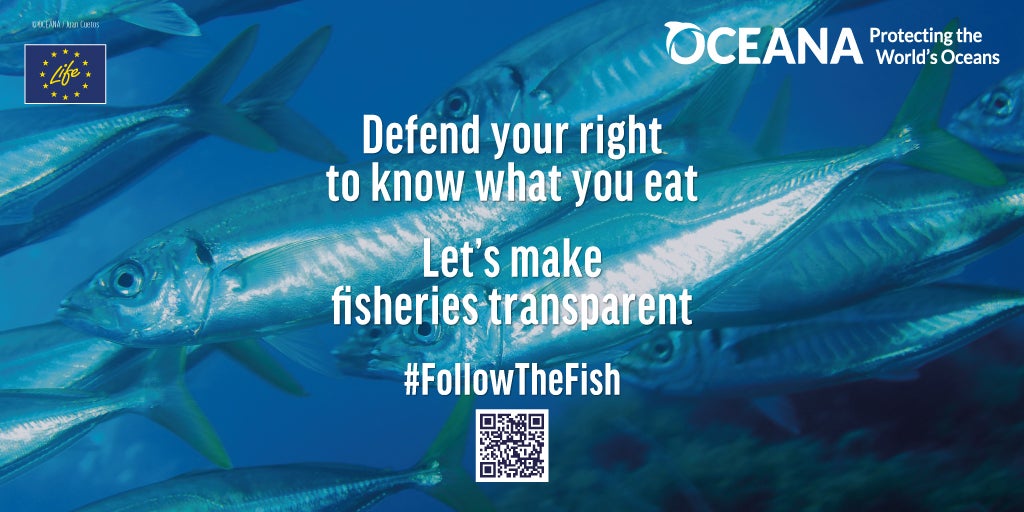 Why do we want you?  
As a key player, we know that you harbour a deep connection to the ocean and want to keep illegally and unethically caught seafood products from ending up on the dinner plates of EU citizens. As such, we believe that you would be a fantastic ally in helping us promote a healthy ocean by endorsing the manifesto. We would be delighted to have you on board our movement to make fisheries more transparent and fairer. 
The time to raise our voices is now! Support your right to know about the sustainability of all seafood products on the EU market! Let the European decision-makers know that sustainable and traceable fish are priorities! 
Why do we want to act now? 
As part of the European Green Deal, the European Union aims to ensure the resilience and sustainability of food systems, recognizing that environment and consumer health are linked. To enable this, the EU Commission is currently developing a proposal for the Framework for Sustainable Food Systems (FSFS) which should be released in the fall of 2023. As part of the FSFS, the European Commission is considering introducing consumer information on environmental and social sustainability on all food items, including seafood. There are several options on the table ranging from reinforcing existing guidelines to creating a new framework for sustainability information by introducing a voluntary or mandatory EU-wide system. This is a key opportunity to improve seafood information for all interested players.  
Why does it matter?  
A seafood sustainability ranking could help trace the fish we eat and avoid products associated with illegal practices and unethical working conditions. 
The seafood sustainability ranking would have three functions:  
INFORM: An A to E sustainability ranking on all food products would allow businesses retailers and consumers to make informed choices on sustainability when buying a product. To be useful, the ranking would need to be required for all products, including imported ones.  
INCENTIVISE: Not all products are sustainable, and a bad ranking would be detrimental to some producers. Therefore, the tool has the potential to change the general food environment by incentivising producers but only if unsustainable products are also featured.  
TRANSFORM: This tool has the potential to transform the food environment. A reliable sustainability metric that is easy to read would provide a useful reference tool for professionals, policymakers, industry, retailers, and NGOs.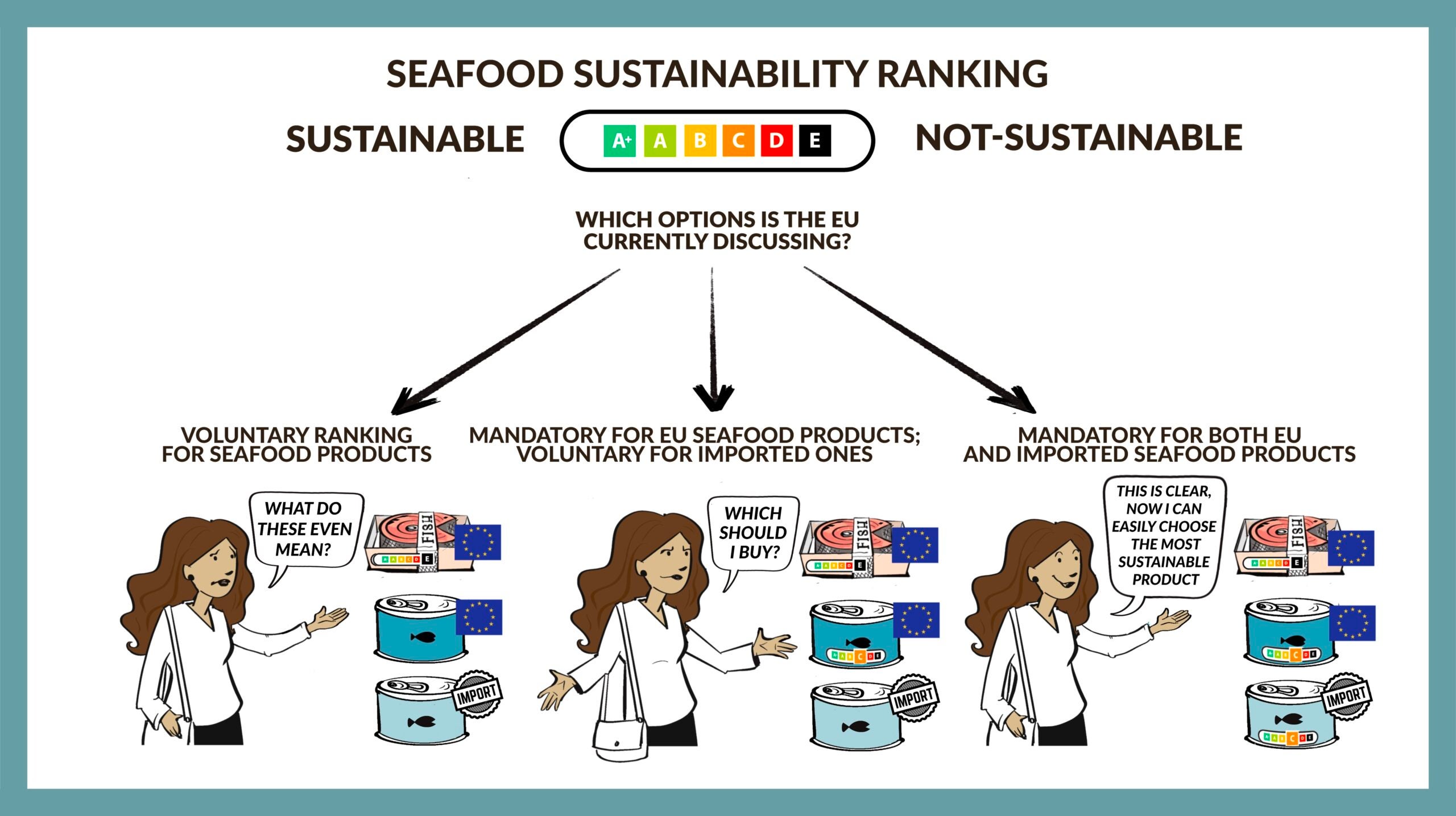 What is illegal fishing and how can seafood traceability help prevent it? 
Illegal fishing depletes fish stocks, destroys marine habitats, distorts competition, and weakens coastal communities – particularly in developing countries. It is often associated with human, drug, and weapons trafficking, tax fraud, money laundering, and labour rights abuses. Stopping the actors at sea is difficult but preventing the trade of products derived from illegal fishing is possible. Strong traceability systems make it harder for operators to hide the illicit origins of their products and enable authorities to intervene. However, if the traceability is faulty, its ability to prevent these products from being sold to consumers quickly breaks down. This is particularly true for products that are transformed, like canned products, where the animal's physical features are absent.