Feature: About Jellyfish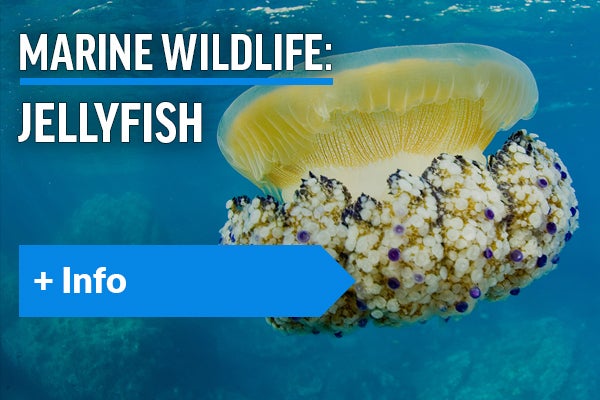 About
Jellyfish are invertebrates that, together with corals, gorgonians and anemones belong to a group called the cnidarians (knidé = nettle, from the Greek). This animal group has stinging cells which they use both to capture their prey and as a form of defense. These cells contain a capsule with a rolled-up filament and a poison. When a prey animal makes contact with the jellyfish, the capsule opens and the filaments are ejected and stick onto the prey, injecting their poison.
Jellyfish are pelagic animals they live in the open seas from tropical to Artic waters and, although they can propel themselves with rhythmic motions of their umbrella, they are basically at the mercy of the currents of the sea.
Because their body is 95% water, they are perfectly camouflaged. The body of a jellyfish exhibits radial symmetry and is divided into three main parts: the umbrella, the oral arms (around the mouth) and the stinging tentacles. They have an internal cavity, in which digestion is carried out. This cavity has a single aperture which functions both the mouth and the anus.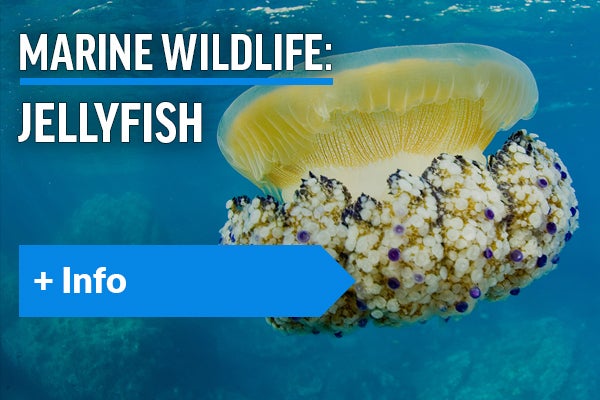 Food
Jellyfish are carnivores and can increase in size rapidly and procreate in large numbers when food is abundant. However, if food is scarce, they can become smaller. These animals, of a gelatinous consistency, have a very unsophisticated anatomy which is nevertheless very effective. They feed mainly on zooplankton, small crustaceans, and in some cases, small fish and other jellyfish also form part of their diet. It is a strange sight to see the jellyfish's latest prey inside its body before it is digested.
Reproduction
In order to reproduce, males and female jellyfish release sperm and eggs into the water (sexual reproduction). After fertilization, they develop larvae which give rise to new jellyfish or polyps that settle on the sea floor. From these polyps, by means of asexual reproduction, new free-living jellyfish may develop.
Defenses
The tentacles, with their stinging cells, serve as defense and as a powerful weapon for capturing prey. When they come into contact with their victims, the nematocysts (cells loaded with poison) present in the tentacles release their harpoons or filaments and release a toxic substance that paralyses the prey. The oral arms help in the capture and ingestion of the captured animal.
Natural Predators
Among the predators of the jellyfish, the following have been identified: ocean sunfish, grey triggerfish, turtles (especially the leatherback sea turtle), some seabirds (such as the fulmars), the whale shark, some crabs (such as the arrow and hermit crabs), some whales (such as the humpbacks).
Some other cnidarians such as anemones, certain nudibranches (small molluscs without shells) also feed on jellyfish. Some of these may even take over their stinging cells to use in their own defense.