Overview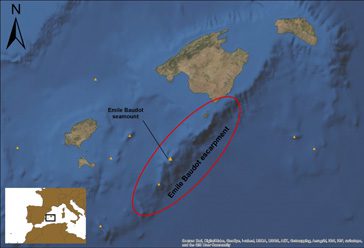 Oceana's expedition for 2013 was to the Emile Baudot escarpment, a large rocky wall to the south of the Balearic archipelago, of which nothing about its ecosystem had been previously known. A team of scientists, technicians and videographers from Oceana spent ten days studying the area, which sits at the southern tip of Cabrera National Park. Using a Remotely Operated Vehicle (ROV), the team recorded visual data and collected samples in order to document the first bionomic description of this geological formation.
The escarpment, which spans almost 300 kilometres of seabed between the south of Formentera and Menorca, rises out of the Algerian-Balearic Basin. One of the deepest areas in the Spanish Mediterranean, it starts at more than 2,000 metres below sea level and reaches the continental shelf at a depth of just over 200 metres.
An Expedition that led to a Victory
The Emile Baudot Escarpment expedition was just one of the six expeditions Oceana conducted to the areas surrounding Cabrera National Park since 2007.
Over the course of 10 years, Oceana tirelessly campaigned for the protection of the seabeds bordering the national park so that they may be designated a marine protected area (MPA). Finally, in January of 2018, the park was expanded by nearly tenfold.
The Crew
ALBERTO SERRANO
Researcher from IEO Santander (Spain)
JACK RAVENSBERG
First mate (The Netherlands)
BORJA JUSTO
Deckhand (Spain)
CARLOS MINGUELL
Underwater photographer (Spain)
ENRIQUE RÍO
Deckhand (Spain)
INGRID F. LACOSTE
Cook (Argentina)
RUBÉN GONZÁLEZ
Deckhand (Spain)
JOSÉ MANUEL SÁEZ
ROV's Technician (Spain)
ALBERT FERRER
ROV's Technician (Spain)
Senior Advisor & Expedition Leader