Overview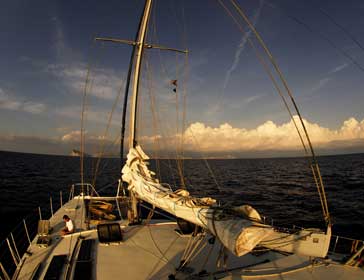 This two-month expedition to the western Mediterranean and the Atlantic studied seamounts (underwater mountains) and canyons. These unique environments are rich in biodiversity, but are relatively unexplored due to their depth and complex terrains.
For the Atlantic part of this expedtion, Oceana collaborated with the Portuguese Government and the country's scientific community to document the Gorringe Bank, a little explored seamount and a veritable oasis of biodiversity southwest of Portugal. This expedition saw the first use of an ROV, capable of reaching depths of 1000 m, in these waters by Oceana.
Additionally, Oceana, in collaboration with Fundación Biodiversidad will continue to provide information on the Seco de los Olivos seamount as part of the European Union project, LIFE + Indemares.
The Crew
Montserrat Serradel
Deckhand (Spain)
Nuño Ramos
Captain (Spain)
Juan Carlos Ramos
Cook (Spain)
Tania Alves Pereira
Asesora de Biodiversidad del Proyecto M@rBis del EMAM (Portugal)
Jorge M.S. Gonçalves
CCMAR/University of Algarve (Portugal)
THIERRY LANNOY
Diving Team Coordinator (France)
JOSÉ LUIS ESCUDERO
Deckhand (Spain)
CARLOS PÉREZ
Chief mate (Spain)
JOSEP FLETA
ROV's Technician (Spain)
GORKA LECLERCQ
Underwater videographer (Spain)
CARLOS MINGUELL
Underwater photographer (Spain)
JOSÉ MANUEL SÁEZ
ROV's Technician (Spain)
Senior Advisor & Expedition Leader