Overview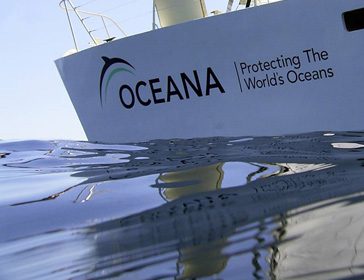 The Oceana Ranger 2010 Expedition focused on the Western Mediterranean, where Oceana researched marine areas that were, and some that still, need to be protected. Thanks to an ROV (Remotely Operated Vehicle), it was possible to film at depths up to 3,000 feet in order to assess the importance of these areas, the species living in them, and to support our proposals to for future marine protected areas.
For the first time, the Ranger also carried a marine pH survey. The primary objective of the study was to gather data on the acidity levels of the Mediterranean waters in order to calculate the impact of acidification caused by CO2 emissions on marine organisms.
LIFE+ Indemares Project
The first stage of the Oceana Ranger 2010 expedition was to study the Seco de los Olivos seamount, also known as Banco the Chella. This important marine area is located off the south-east of Spain and is home to an astonishing variety of species and habitats, including cetaceans, corals, gorgonians and even rare carnivorous sponges.
The research was supported by the European Union through the LIFE+ Indemares project, which aimed to contribute to the protection of the marine biodiversity through the creation of marine protected areas within the Natura 2000 Network. The initial plan of the expedition also included the exploration of other seamounts in Western Mediterranean.
The work was done by a team made up of marine scientists, divers, ROV operators, sailors and supporting staff. Professional divers took underwater photographs and filmed down to depth to 130 feet, whereas the ROV or underwater robot document depths reaching 3,000 feet.
This expedition's ROV wass equipped with a CTD device able to measure characteristics of the sea water such as Conductivity, Temperature and Depth. It enabled Oceana scientists to gather data about the acidity of the Mediterranean water. Acidification, caused by the increase of CO2 emissions, poses a great danger to corals and shell-forming species.
The Crew
Ricardo Aguilar
Coordinator of the Expedition
Soraya de Miguel
Support Staff at Almerimar (Spain)
Eduardo de Ana
Support Staff at Gulf of Cadiz (Spain)
SOPHIE JOUAN
Support Staff at Almerimar (Spain)
Jordi García
Captain (Spain)
Ana de la Torriente
Marine Scientist (Spain)
PITU (JOSEP MARIA) ROVIROSA
Algarve University (Portugal)
THIERRY LANNOY
Diving Team Coordinator (France)
MARIO CONDE
Deckhand (Spain)
CARLOS SUÁREZ
Underwater photographer (Spain)
CARLOS PÉREZ
Chief mate (Spain)
JOSEP FLETA
ROV's Technician (Spain)
GORKA LECLERCQ
Underwater videographer (Spain)
CARLOS MINGUELL
Underwater photographer (Spain)
AITOR LASCURAIN
Support Staff at Almerimar (Spain)
ENRIQUE TALLEDO
Underwater videographer (Spain)
JOSÉ MANUEL SÁEZ
ROV's Technician (Spain)