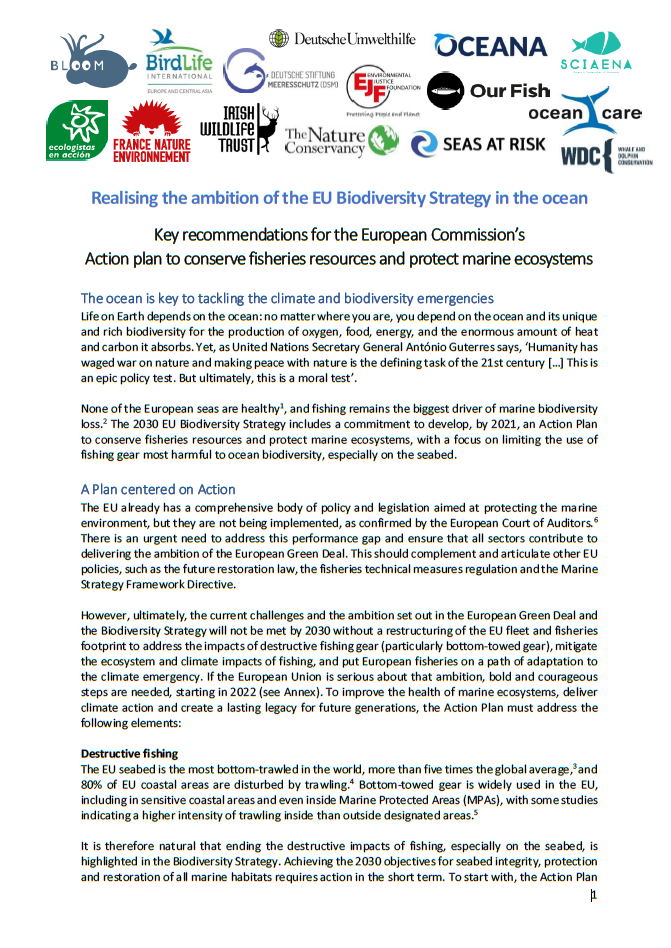 The ocean is key to tackling the climate and biodiversity emergencies
Life on Earth depends on the ocean: no matter where you are, you depend on the ocean and its unique and rich biodiversity for the production of oxygen, food, energy, and the enormous amount of heat and carbon it absorbs. Yet, as United Nations Secretary General António Guterres says, 'Humanity has waged war on nature and making peace with nature is the defining task of the 21st century […] This is an epic policy test. But ultimately, this is a moral test'.
None of the European seas are healthy1 , and fishing remains the biggest driver of marine biodiversity loss.2 The 2030 EU Biodiversity Strategy includes a commitment to develop, by 2021, an Action Plan to conserve fisheries resources and protect marine ecosystems, with a focus on limiting the use of fishing gear most harmful to ocean biodiversity, especially on the seabed.
A Plan centered on action
The EU already has a comprehensive body of policy and legislation aimed at protecting the marine environment, but they are not being implemented, as confirmed by the European Court of Auditors.6 There is an urgent need to address this performance gap and ensure that all sectors contribute to delivering the ambition of the European Green Deal. This should complement and articulate other EU policies, such as the future restoration law, the fisheries technical measures regulation and the Marine Strategy Framework Directive. However, ultimately, the current challenges and the ambition set out in the European Green Deal and the Biodiversity Strategy will not be met by 2030 without a restructuring of the EU fleet and fisheries footprint to address the impacts of destructive fishing gear (particularly bottom-towed gear), mitigate the ecosystem and climate impacts of fishing, and put European fisheries on a path of adaptation to the climate emergency. If the European Union is serious about that ambition, bold and courageous steps are needed, starting in 2022 (see Annex). To improve the health of marine ecosystems, deliver climate action and create a lasting legacy for future generations, the Action Plan must address the following elements:
Destructive fishing
The EU seabed is the most bottom-trawled in the world, more than five times the global average,3 and 80% of EU coastal areas are disturbed by trawling.4 Bottom-towed gear is widely used in the EU, including in sensitive coastal areas and even inside Marine Protected Areas (MPAs), with some studies indicating a higher intensity of trawling inside than outside designated areas.5 It is therefore natural that ending the destructive impacts of fishing, especially on the seabed, is highlighted in the Biodiversity Strategy. Achieving the 2030 objectives for seabed integrity, protection and restoration of all marine habitats requires action in the short term. Download report to read more...
Download the Factsheet