Bottom Trawling: Campaigns
< Back to Bottom Trawling Overview
Strait of Sicily
One of the examples of our campaigns against the bottom trawling use in the Mediterranean Sea is the Strait of Sicily. For many years, the Strait of Sicily (an area in the Mediterranean Sea shared between Italy, Malta and Tunisia) has been facing the detrimental effects of the destructive bottom trawling practice in the areas that are essential to the reproduction of hake and deep-water rose shrimp.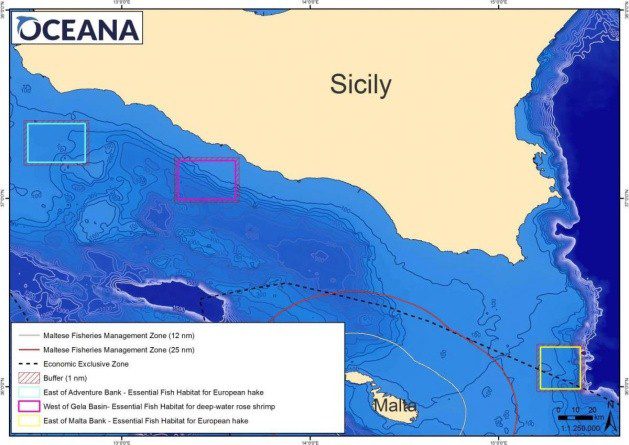 During our expedition in Malta in 2016, we filmed and unveiled never-before-seen images from the Strait of Sicily, showing damage caused by aggressive bottom trawling technique. Oceana has been the only organisation campaigning for several years to protect the area and ensure a long-term sustainability of its stocks. As a result, the GFCM Commission announced in 2016 the closure of three Fisheries Restricted Areas to bottom fish trawling in the northern part of the Strait of Sicily.
In total, 1,493 square km between Italy, Malta and Tunisia aim to protect nursery areas for hake and deep-sea rose shrimp, of which more than 60% of the total catch comes from the region. Decision taken by the GFCM and following Oceana's proposal was a historical moment in the central Mediterranean, as for the first time ever management measures for shared stocks have been implemented in this area.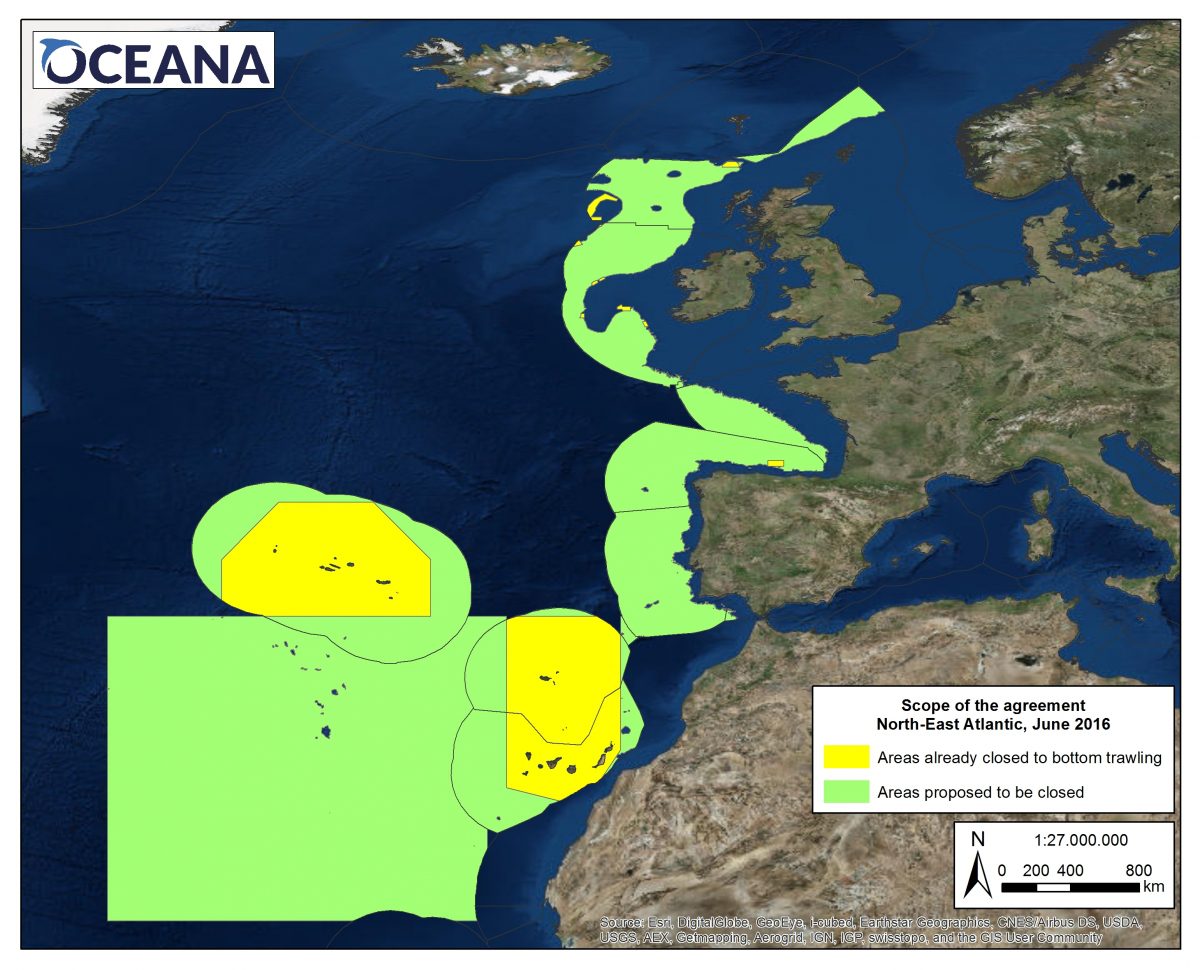 Deep-Sea Bottom Trawling
Oceana was campaigning for several years for the implementation of the deep-sea bottom trawling ban in the North-East Atlantic waters. In 2016, the EU announced an agreement on a new regulation for deep-sea fisheries in that region, brining increased protection for vulnerable marine ecosystems and deep-sea sharks. With the EU's decision, all trawling activity has been prohibited below 800m depth, protecting 4.9 million square km – an area larger than the EU itself.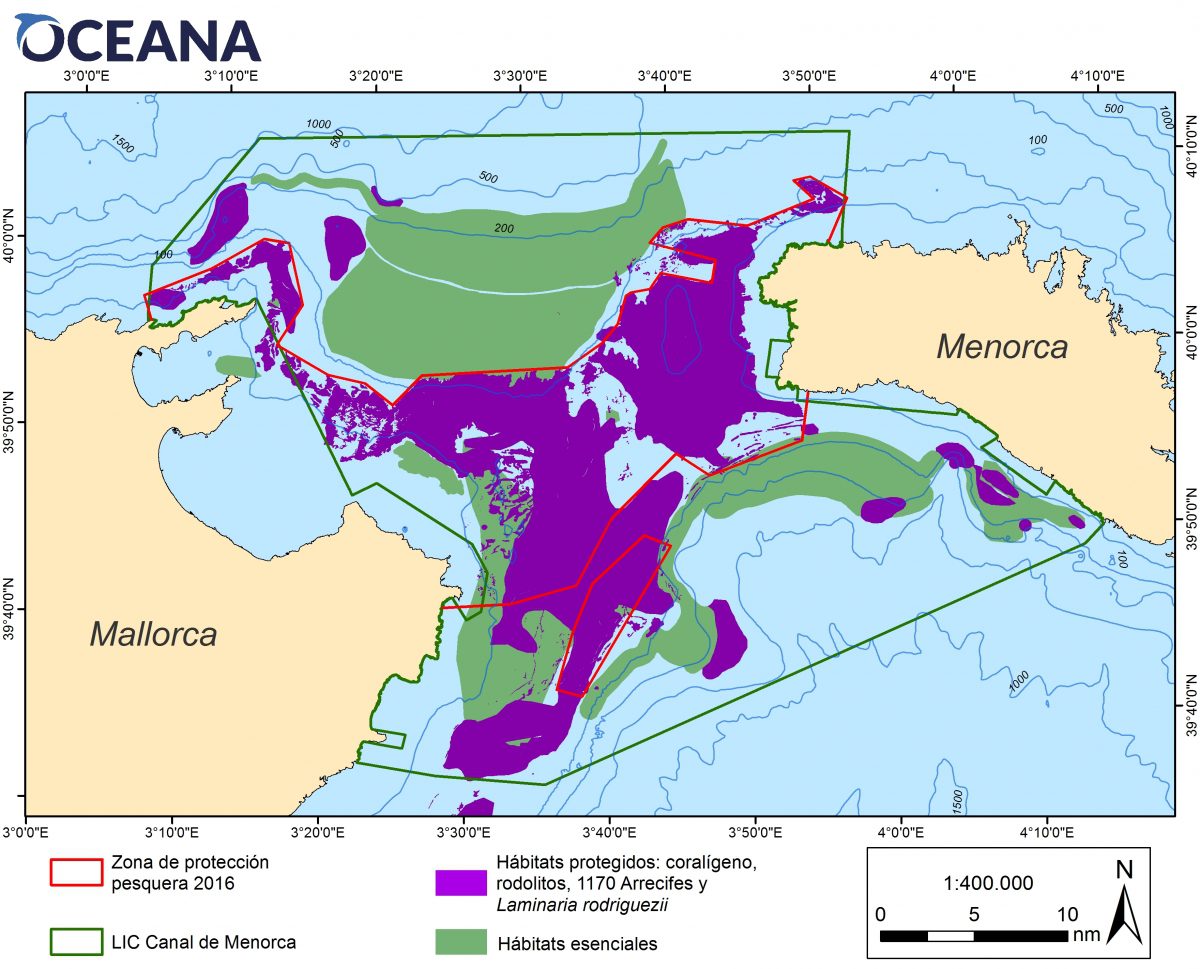 Balearic Islands
After several years of Oceana's advocacy work, in 2016 Spanish government announced a ban on bottom trawling and similar destructive fishing techniques in a 1,400 square km. area between Mallorca and Menorca, in the Balearic Islands. This decision by Spain marks a step in a good direction towards the conservation of sensitive habitats that are essential for fish and crustaceans. The Spanish government also expanded the protected area in Fort d'en Moreu, a vibrant reef to the east of Cabrera that has been threatened by illegal trawling activity.
See photos from Fort d'en Moreu (via Flicker).