Bluefin Tuna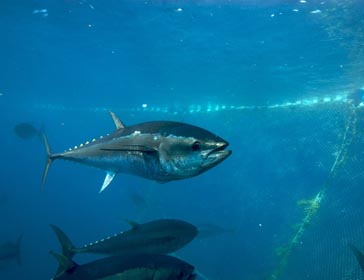 Atlantic bluefin tuna (Thunnus thynnus) is an emblematic species that has been driven toward extinction by overfishing (mainly due to the industrial purse seine fishery and their capture for fattening in cages) and international trade.
The bluefin tuna is a predator and, as such, is in the highest positions in the food chain, playing an important role in maintaining the ecological balance of the marine environment. Furthermore, because of its low reproduction rate and late maturity, at 3-5 years, this animal is very vulnerable to overfishing. 
Scientists from the International Commission for the Conservation of Atlantic Tunas (ICCAT) have concluded that Atlantic bluefin tuna face an unprecedented decline to less than 15 percent of its virgin spawning stock biomass (unfished). This species is clearly at risk of extinction.
What Oceana Does
Oceana carried out expeditions on land and on board the Oceana Ranger catamaran and the Marviva Med in the Mediterranean, as well as fishing surveillance activities in countries like Italy, France, Spain, Croatia, Greece, Turkey, Tunisia and Morocco.
Oceana develops its campaign primarily in May and June, the months when the tuna fleet is most active, because illegal landings and activities in fattening farms require strict control measures.
Field work is complemented by presence at meetings of the regional fishing organisation (ICCAT), scientific meetings concerning the species and interventions concerning political decisions. Oceana compiles reports and scientific studies in order to call attention to the risks suffered by this species and to change current national and European policies that are clearly ineffective at managing this species.