April 27, 2005
You will like the gorgonians I have filmed. Wednesday, April 27th, 2005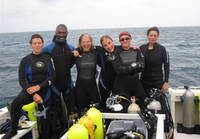 We are in hurricane area and the residents of Green Turtle Cay are still getting over the devastation left by the last one. The first officer onboard, Carlos Pérez says he has seen many moorings torn apart in Marsh Harbour. He went there with David and Indi, to purchase oil and motor parts. They took a ferry that transported them for three nautical miles. From there, they had to rent a car and drive nearly 40 kilometers, until they reached a small town in the island of Abaco. Indi took the opportunity to purchase yogurt and bananas, two items that disappear very fast at the Oceana Ranger. I can attest to the fact that the Ranger crew is very health conscious.
Today we gave Houssine, the photographer, the day off; he got up this morning feeling terrible muscle spasms. Although we gave him anti-inflammatory pills and a massage, he still did not feel better. It must be a cramp. In addition to being a photographer, he assists Mar, the Oceana filmmaker, by holding a heavy light beam while underwater and even holding Mar…to keep her from sudden movements that could frighten the species that is being filmed. The effort pays, in the long run. Houssine prefers to stay back on the Ranger, Bibi will replace him. He knows we will try to film sharks tomorrow, and that will not be an easy task.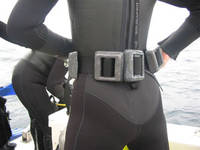 The weather was not very promising this morning. It was grey and sullen. Suddenly, pouring rain began to fall. "It seems like it will not get any better" comments someone in a somber tone. The climate ruined the filming dive we planned for early this morning. Ricardo and Mar had an emergency meeting, to reconsider the work plan. Meanwhile, the rain eases a little. To try to save the day, they decide to go film with macro and obtain details of things that the expediton does not normally have time to stop to film: gorgonians and corals, as well as small mollusks and crustaceans" Ricardo explains.
Brendal himself accompanies us, offering us the use of a ship a little bigger than the one we used the last few days. Our local guide is going to turn 62 years old, but apart from the grey in his curly hair, no one could guess it: he keeps a well polished, well toned body that has no fat in it. Even when Bahamans are people of handsome features, no everyone can presume as much as he.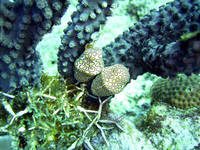 Flamenco tongue and large flower coral
After a one hour dive, Mar's head emerges first. We know this, because today she is wearing a new handkerchief which our companion Maribel Lopez gave her when the Ranger passed through Panama (now she is back in our office in Madrid). Wearing that handkerchief, Mar no longer looks like a pirate. She has done very well underwater; she is so happy that she can't wait to come onboard to tell us. "You are going to like it, Ricardo, you will see. The polyp I have recorded, you are going to like it…" she repeats excitedly. Large bubbles coming up beside her announce that Bibi is about to emerge. And she did. The Ranger's Galician sailor (from Cambados) takes off her regulator and nods affirmatively in any way she can. "She had me filming the polyp for fifteen minutes…but she is right, it was fascinating!"
Mar's enthusiasm has a reason to be. Every time we plan and prepare our dives, Ricardo instructs divers on which species are to be filmed and photographed. Today, they had to document "flamenco tongues" one of the most ferocious devourers of gorgonian polyps known, and also film all the activity around the gorgonian tree. Today, we were lucky to find a less common coral; it is called "Large Flower Coral" (Mussa angulosa).
Gorgonians are similar to hard corals, but instead of having polyps with a number of tentacles in number multiples of 6 (hexacoralarios), their polyps have eight (octocolorarios).They live in colonies, like many coral species, and they can have very different shapes: leafy (also called "marine fans"), branching, encrusting, (they create a sort of tapestry over the rocks), or in the shape of a whip (other shapes: pillar like, and boulder shaped). They live in areas with plenty of light (because they have a symbiotic relation with algae, like other corals) and in areas with ample movement where there is constant flow of nutrients. They are also known as soft corals, because they can move with the waves…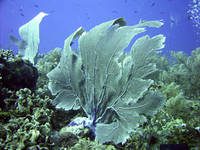 Gorgonians in the Mediterranean
"In Europe, there is a great variety of gorgonians, and in the Mediterranean, there are commonly found formations known as coralline reefs" comments Ricardo, while we wait for divers (there are 6 today) to emerge from their dive. In the European coralline reef, gorgonians would occupy the upper layer of this ecosystem, together with sponges, coralline algae…"Despite its great diversity, this ecosystem is not under protection of European legislation, which is regrettable. In some Mediterranean areas, it estimated that these areas have been reduced in more than 80%"
This is why when the Oceana Ranger reaches the Mediterranean, this will be one our main objectives: to advocate so the European Union include the coralline as Habitat Directive.