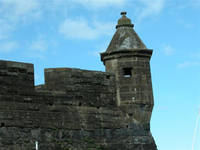 Horta, the capital of Faial, is a small port city that was able to maintain its charm through decades, keeping the style on all buildings, restauring facades, and making sure no urban aberrations are built. They took care of every detail in order to preserve the city's tradition and uniqueness. At the same time, its inhabitants have gained economic prosperity, and we perceive a sensation of affluence and general wellbeing among its 16,000 inhabitants.
It is a relief for a Mallorcan to find that some island inhabitants from originally poor regions have not necessarily become destructive beasts to the landscapes, cultures and ecosystems. Economic progress is possible while still maintaining respect for all that. Azores is a proof of this. A contributing factor may be the existence of governors among the islands who are endowed of some level of sensibility and decency.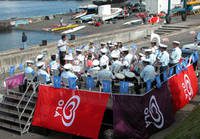 The marine at Horta, integral part of the city, is one of four most widely used ports by sailboats in the world. We are not just speaking of the weekend sailboat users, those who spend most of the day in their luxurious boats docked, not going out to sail. Those do not make it to Azores. The ships that come to this port are those who cross the Atlantic, circling the globe, wandering this ocean from North to South.
This port is bursting with life. Last weekend, while we made repairs onboard and took care of details on the Ranger after the crossing from Bermuda, all sorts of activities were going on around us. A Spanish team-formed by people from Cataluña, Mallorca and Ibiza-was the winner of a triathlon competition held among teams from several islands. This involved a combination of windsurfing, climing a volcano in the neighboring island of Pico on mountain bikes and a canoe crossing with finish line in Horta. Here, participating teams were regaled with hours of concerts, played at the port's esplanade.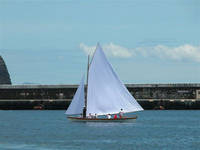 Meanwhile, three old whaling ships in Azores, now restored, went on a small regatta along the bay, across the port. Fast and stylish, they give us an idea of the efficiency they must have displayed in the hunt for cetaceans and of the bravery and ability of its crew when they ventured out into the Atlantic in these modest vessels, armed with hand operated harpoons. Azores was involved in the hunt for sperm whales until 1986. A movie filmed some five years ago, protagonized by Emma Suárez and titled La Dama de Porto Pim, was set in the whaling era. Porto Pim is a small group of houses built where the whaling factory was located. Today, it is an environmental education center.
There used to be a series of observation points on the island, where whalers would keep watch, searching for sperm whales, and when these were sighted, they immediately notified the boats that- powered by sails or paddles- launched the persecution and the hunt. Numerous vestiges are left from the whaling tradition era in the island, such as artisan arts and crafts engraved on teeth and bones of sperm whales.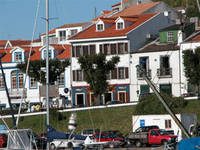 Today, the old whale hunter's observation points are occupied by scientists or employees of different small whale watching companies. This is another example-when done with appropriate regulations-of a way to transforme an economic resource into a sustainable form of business.
All this port activity can be observed from the Peter's Sport Café, a true insititution for those who pass through Horta. It is run by three generations of a family who decided to maintain the character of an old tabern from the whalint era, and turn it into a eating place where you can have breakfast, lunch or where you can have a few drinks until very late hours.