May 25, 2005
We approach Azores, in the midst of a storm. Wednesday, May 25th, 2005
We are approaching Azores. We estimate our arrival for Friday the 27th in the morning.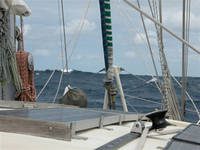 The bad weather continues. We are against prevailing wind. This morning we had winds of 35 to 40 knots. The worse is, they come from North East direction, that is, the wind practically hits the prow area, around the larboard mast. The winds reduced our speed to about 5 knots. We have lowered the jib, but we kept our mainmast sail, with some sail reduction and the mizzen, decided to lower itself, when one of the two ropes holding it hoisted broke. We resorted to using one of the motors, alternating the larboard and starboard motors, waiting for the wind to ease and allow us make full use of the sails. Were you not supposed to find carrying winds in the Atlantic? Well, as we did the rest of the crossing: always prow first (against the wind).
The spritis are good, although most people not on guard duty take refuge in their beds, to keep from bumping against one place or another.
There are heroes: Mar and Houssine baked bread, under these circumstances.
Today, Houssine has repeated the operation, this time helped by David. Indi has also began to cook. Hey! And I am writing, following the computer all over the table, which has its merits too!