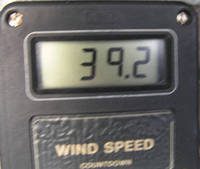 When silence reigns on board, it is a sign that no one feels like touching the keyboard. It has been the case with us the last couple of days, when the sea has been quite rough on us. As we draw near Lagos, in the Portuguese Algarve, the final stop in our Atlantic crossing, we are having the worse weather of the entire journey. The arrival in Azores is traditionally considered the end on the crossing, because the distance between Bermuda and Azores is the largest route for those who choose this course. However, outside this archipielago, we still have a good day's run ahead of us. We must not forget that the Azores are the summit of the Atlantic dorsal mountain range. When we set sails from its ports we still have another week of navigation through the Atlantic, before arriving at the first port of the European continent. And the weather is not favoring us on this crossing. We have winds of 35 to 40 knots, with high tides and sometimes really strong tides.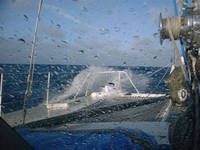 As usual, the Ranger is holding perfectly, with no significant problems. There are just a few details that make life a little uncomfortable. Waves crash against the messroom's ample windows, sometimes the water goes over the ship, and that causes water to seep inside through the joints. It seems that the new glass joints installed before leaving San Diego in the USA are not as watertight as they should be. The same happens in some of the berths that receive some water leakage from the hatch that goes to the deck. It is nothing serious, just a bit uncomfortable when you try to sleep dry. We navigate with sails most of the time, although when the wind speed is particularly inappropriate to get us close to our destination, we use one the two motors.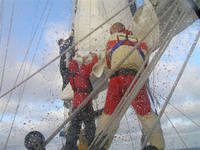 We are in daily communication with the " Espiritu de Xarei ", a ship commanded by our friend Xurxo Gómez, manned by other old and new friends. They were docked by our side in Horta, and left a day after the Ranger, en route to the Mediterranean, just like us. They passed us when we were diving in the underwater volcano Joao de Castro, and now they travel 90 miles ahead of us, having to endure the same storm. Yesterday, when we spoke to them, the radio operator commented to us: " our crew has opted for seclusion ". And we laughed, because this is the usual attitude in all ships. In the face of strong setbacks, those not on guard duty or not essential to the voyage, opt for taking refuge in their sleeping quarters and the ship-usually the hub of life and activity-becomes a desolate place.
I can see this will be a rather short journal entry. See you tomorrow!