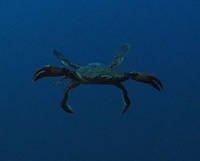 We cannot always accomplish waht we plan. This morning, we have bad weather, winds of 30 knots and 2 meters waves. Plans have been cancelled for the last dives to the Ormonde mount, a part of the underwater mountain range Gorringe Ridge.
Despite this, results from this phase of the Ranger's expedition, begun in January 2005 in waters of the Pacific, have been satisfactory. At the Gorringe Ridge carried out 12 dives ( each couple of divers went down 6 times ) with the purpose of documenting marine life and the state of this incredibly remarkable ecosystem, located about 150 miles from the nearest coast. It is beyond remarkable; we are aware that some of underwater scenes we have set eyes on down here have not been seen by human eyes before. We know we are making history. Research on these marine mounts and on mountain ranges around the world are very scarce.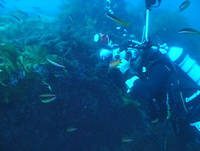 After loading the boat on the stern of the Ranger, with some effort, as the waves did not make the work easy, we have begun our return to Lagos ( Portugal ). Despite the bad weather, Ricardo Aguilar sighted a loggerhead ( Caretta caretta ) measuring over half a meter carapace length.
Climate condition improved as the day went by. The captain has decided to raise all sails of the Ranger. Once the ship was leveled off, we reached 8 knots. At this speed, taking a few naps, enjoying a good dinner and lintening to a bagpipe concert offered by captain Nuño, the crossing will seem very short.
Once we make port, the crew will leave everything ready for the crissing towards the Strait of Gibraltar and the Sea of Alboran en route to our final destination, Palma de Mallorca. A bittersweet feeling is rising among the crew. We know the end of the expedition is near. We are looking forwards to arriving at port, but our heads are filled with images piled up in our memory, of the more than five months of sailing that will be hard to forget. Now we must go through the last effort…